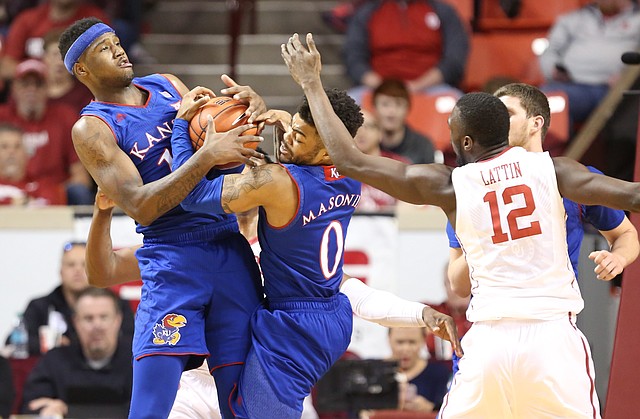 Kansas guard Frank Mason III (0) and Kansas forward Carlton Bragg Jr. secure a rebound from Oklahoma during the second half, Tuesday, Jan. 10, 2017 at Lloyd Noble Center in Norman, Okla.
Stories this photo appears in:

Carlton Bragg's suspension, announced Thursday night, is indefinite. If that morphs into permanent, well, that doesn't necessarily make Kansas a worse basketball team. Eight healthy scholarship players going in the same direction beats eight going one way, a ninth going nowhere.

Sophomore forward Carlton Bragg Jr. is mired in a funk similar to the one senior Landen Lucas battled to begin the season. But because the 6-foot-10 forward from Cleveland has spent most of his life dominating opponents and making headlines for his abilities on the offensive end of the floor, Bragg has not been able to follow the exact recipe that Lucas did to play his way through it. By Matt Tait