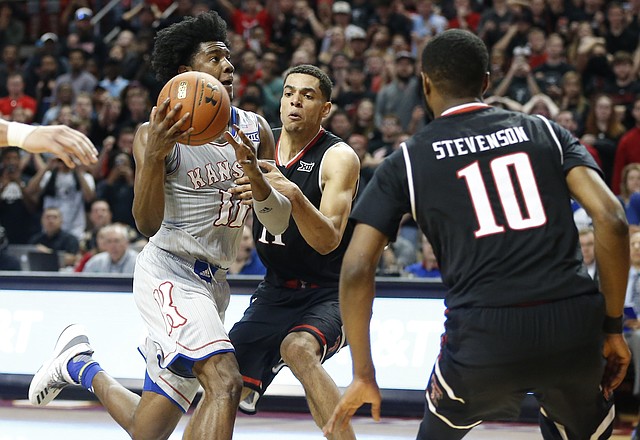 Kansas guard Josh Jackson (11) is fouled on the drive by Texas Tech forward Zach Smith (11) with seconds remaining in regulation, Saturday, Feb. 11, 2017 at United Supermarkets Arena in Lubbock, Texas. The foul put Jackson at the free throw line where he hit the second of two shots to give the Jayhawks a one-point lead and ultimately, the win.
Stories this photo appears in:

Such brutal blocks of a schedule have been known to expose freshmen as less-than-ready for the prime-time. Not just any freshman, Josh Jackson has exploded with his most productive run, which figures. His emergence as a consistent big-time scorer coincides precisely with the uptick in the difficulty of the schedule. The more his team needs him, the better he tends to play.

If Saturday was any indication of how the 20th year of his life is going to go, Kansas freshman Josh Jackson is in for a heck of a ride. By Matt Tait