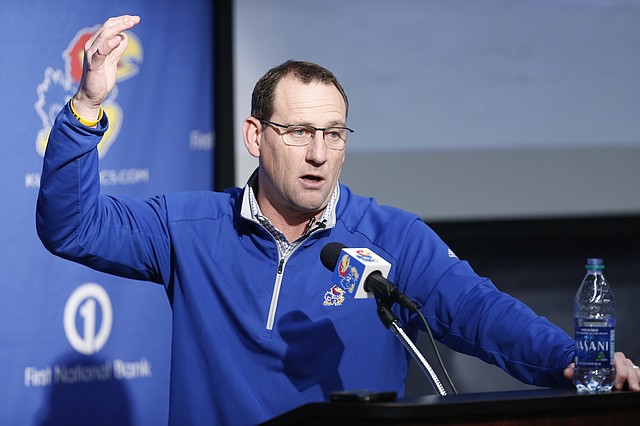 Kansas football head coach David Beaty gives the rundown on his incoming players during a Signing Day news conference at Mrkonic Auditorium in the Anderson Family Football Complex.
Stories this photo appears in:

Now that Sheahon Zenger is gone, the length of the Kansas football coach's tenure will be based purely on what's best for the university's future, not what's best for anybody else's job security.

Early in David Beaty's tenure as head football coach at Kansas, athletic director Sheahon Zenger mentioned in passing but with confidence that it had been his experience that it takes until a coach's third year on the job for him to get his staff just right.

Some coaches liken National Signing Day to Christmas. For third-year Kansas football coach David Beaty, who saw a crop of new additions make their affiliation with the program official Wednesday, it felt more like a game day. And Beaty thought the Jayhawks emerged victorious. By Benton Smith