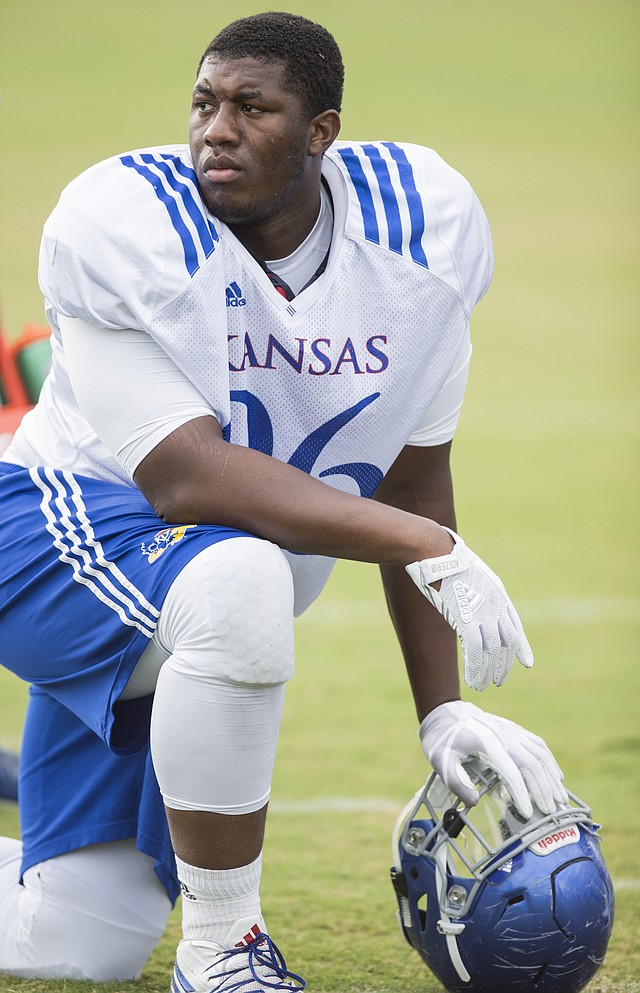 Kansas defensive tackle Daniel Wise catches a break during practice on Friday, Aug. 18, 2017 at the grass fields adjacent to Hoglund Ballpark.
Stories this photo appears in:

When defensive tackle Charles "Codey" Cole decided to sign with the Kansas football program, he didn't know whether a key Jayhawk who plays the same position, Daniel Wise, would still be around by the time he arrived in Lawrence for the spring semester. The new Jayhawk was glad KU's star lineman returned for the 2018 season. The 6-foot-3 transfer from Butler Community College plans to pick Wise's brain as much as he can. By Benton Smith

Baylor, the best shot for Kansas to win a Big 12 game, arrives at the perfect time on the schedule for the Jayhawks.

No doubt experiencing the same emotions as many Kansas football fans following the Jayhawks' second consecutive blowout/shutout defeat, exasperated redshirt junior defensive tackle Daniel Wise had seen enough by the end of a 43-0 loss Saturday at TCU. By Benton Smith