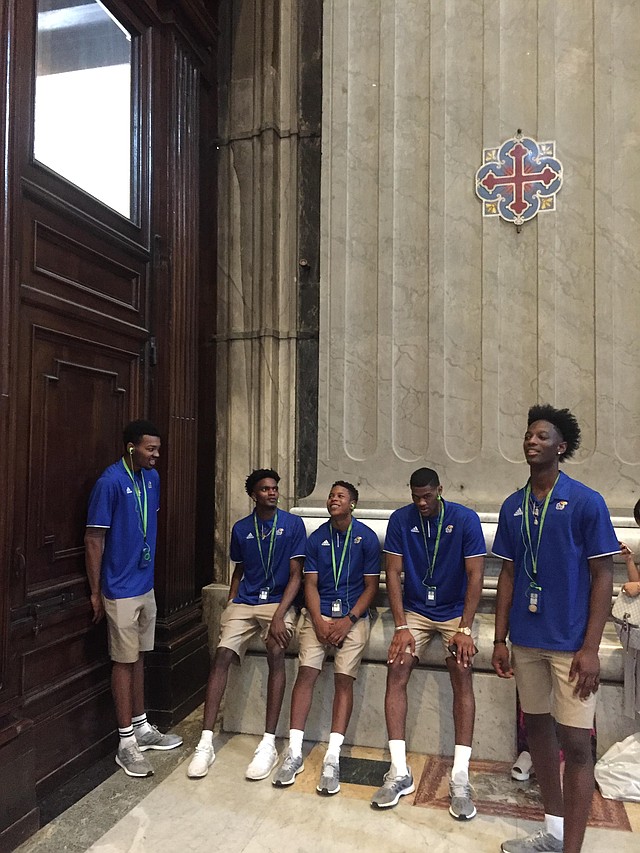 Kansas players, from left to right, K.J. Lawson, Lagerald Vick, Charlie Moore, Billy Preston and Marcus Garrett share a laugh while waiting at the exit of St. Peter's Basilica during the Jayhawks tour of Vatican City on Thursday, Aug. 3, 2017.
Stories this photo appears in:
Team bonding and a better understanding of the newcomers was a major point of emphasis for the Kansas men's basketball team during its recent trip to Italy. And while many Jayhawks felt progress was made in that department, they also feel there's still room to do more. By Matt Tait

For Kansas guard Sam Cunliffe, an Italian Catholic who grew up among pictures on his grandparents' walls of the old country's most magical places, the signature moment of Thursday's team trip to Vatican City came when he was in the silent Sistine Chapel staring up at Michelangelo's "The Creation of Adam" some 70 feet above his head.