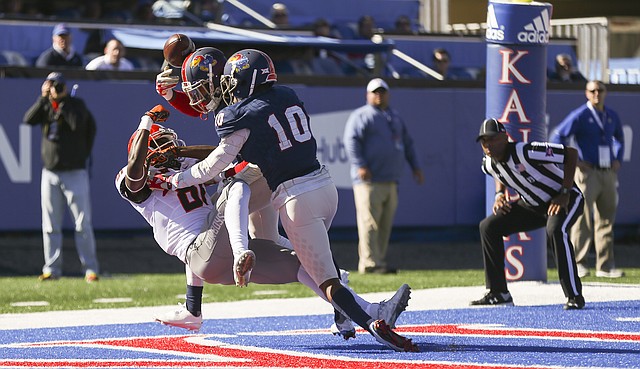 Kansas linebacker Mike Lee (11) and Kansas cornerback Marnez Ogletree (10) break up an end zone pass to Oklahoma State wide receiver Jhajuan Seales (81) during the quarter on Saturday, Oct. 22, 2016 at Memorial Stadium.
Stories this photo appears in:

One could point to any number of factors while explaining how the Kansas football team has lost six consecutive games this season. Still, it's difficult to ignore how the Jayhawks' offensive tribulations have undermined the team's defense. By Benton Smith

Kansas' defense statistically ranks among the best in the Big 12 and it all starts up front, where all-conference-worthy sophomores Daniel Wise and Dorance Armstrong already have developed into disruptive forces.

When Kansas safety Fish Smithson delivered the first sack of his college career in the first quarter Saturday against Oklahoma State, the impact of the play didn't stop with junior quarterback Mason Rudolph heading toward the Memorial Stadium turf. By Benton Smith