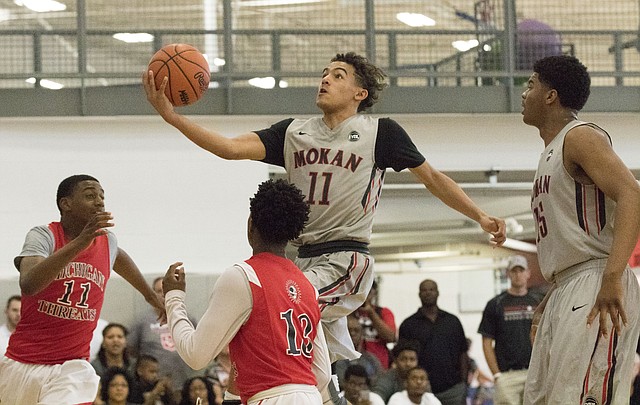 Kansas basketball recruit Trae Young (11) weaves his way though traffic as he drives to the hoop during AAU competition Saturday afternoon at Lawrence Sports Pavilion.
Stories this photo appears in:

If ever there were an even split for a high-profile basketball prospect's college decision, this is it. Five-star point guard Trae Young, of Norman, Oklahoma, is set to reveal his long-awaited decision at noon Thursday at Norman North High and a quick glance at nearly every legitimate recruiting site out there has this one coming in as a dead heat between Kansas and Oklahoma.

Before he announces his college choice, blue-chip basketball prospect Trae Young still has to announce where he'll be playing his senior year of high school. By Gary Bedore

The opening tip of the marquee game of the KC Classic basketball tournament went to MoKan Elite point guard Trae Young, who after a couple dribbles, launched a deep lob pass to fellow blue-chip college prospect Michael Porter, Jr., who flushed it — one-handed of course.