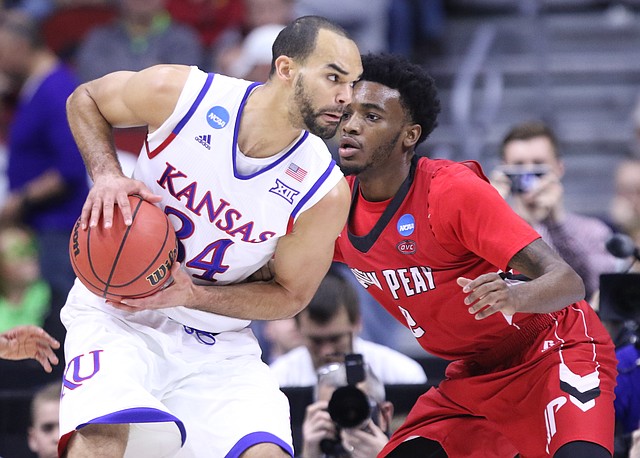 Kansas forward Perry Ellis (34) looks to make a move against Austin Peay forward Kenny Jones (42) during the first half, Thursday, March 17, 2016 at Wells Fargo Arena in Des Moines, Iowa.
Stories this photo appears in:
Self Made was forced to face reality within the first minute of this year's TBT tournament. Despite being a No. 3 seed, and the ninth-ranked squad in the entire field, the Kansas alumni team never led in an eventual 87-63 loss to sixth-seeded Sideline Cancer during the opening round of the TBT tournament Thursday night at Wichita State's Koch Arena. It was an abrupt ending during Self Made's first year in the event.
Kansas University senior basketball guard Tyler Self and recent KU graduates Perry Ellis and Evan Manning have been named to the 2015-16 National Association of Basketball Coaches Honors Court, the NABC announced Tuesday.
With the NBA Draft less than a month away and the decisions about who's staying in and who's returning to school in the rearview mirror, the picture for the four former Kansas University basketball players eligible for this year's draft is becoming clearer. By Matt Tait