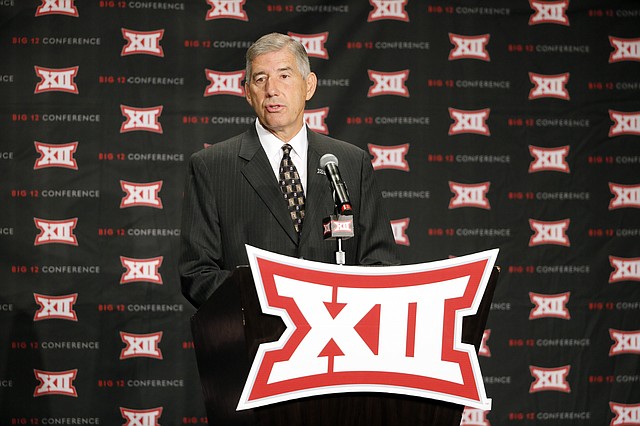 Big 12 commissioner Bob Bowlsby addresses attendees during Big 12 media day, Monday, July 18, 2016, in Dallas. (AP Photo/Tony Gutierrez)
Stories this photo appears in:

Conference announced Friday night that football players will be allowed back on campus June 15
Big 12 Commissioner Bob Bowlsby not only believes there will be college football games this fall but also thinks there will be fans there to watch. By Matt Tait

When Big 12 commissioner Bob Bowlsby got off the plane in Lawrence, he was greeted by a group of local reporters. Bowlsby, of course, knew he was not the reason for this welcoming party at the Lawrence Municipal Airport. It marked the second time that reporters were at the airport regarding the coaching search since Kansas Athletic Director Jeff Long announced that David Beaty would not be the head football coach following the conclusion of the 2018 season.
November 13, 2018 7:30 p.m.

The Big 12 is accepting resumes from expansion candidates.
By Associated Press
July 19, 2016 5:20 p.m.