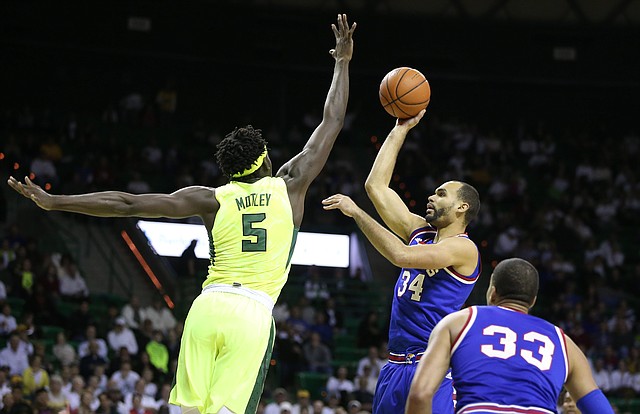 Baylor forward Johnathan Motley (5) extends to defend against a shot from Kansas forward Perry Ellis (34) during the first half, Tuesday, Feb. 23, 2016 at Ferrell Center in Waco, Texas.
Stories this photo appears in:

These aren't your older brother's Baylor Bears. You remember them. Long, tall, sometimes spectacular big men who at other times passively sat back in a passive 2-3 zone as Kansas picked them apart.

So many years with so many false alarms have conditioned us all to think that any school other than Kansas having a shot at gaining an outright Big 12 basketball title has a hollow ring to it.

Playing with a watery right eye and 12 stitches in his head, Perry Ellis responded with 15 points, three assists, two blocks and two rebounds in 36 minutes on Tuesday at Ferrell Center.