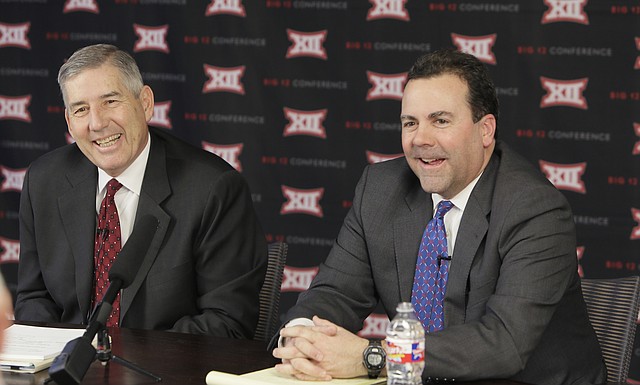 Big 12 commissioner Bob Bowlsby, left, and Kansas athletic director Sheahon Zenger laugh while taking reporter's questions after the first day of the conference's meeting Thursday, Feb. 4, 2016, in Irving, Texas. (AP Photo/LM Otero)
Stories this photo appears in:

It will take expanding all the way to 16-member conferences for power brokers in college athletics to realize that the size that makes most sense is cutting that number in half.

According to a CBS Sports report, Big 12 schools are starting to lag behind their SEC counterparts in payouts.
February 19, 2016 10:37 a.m.

The Big 12 athletic directors gathered on Thursday near Dallas for one of their regularly scheduled meetings and, in reaction to a recent ruling by the NCAA giving the Big 12 a shot at having a conference championship game in football with just 10 members, discussed the conference's options moving forward. By Matt Tait
February 4, 2016 11:49 p.m.