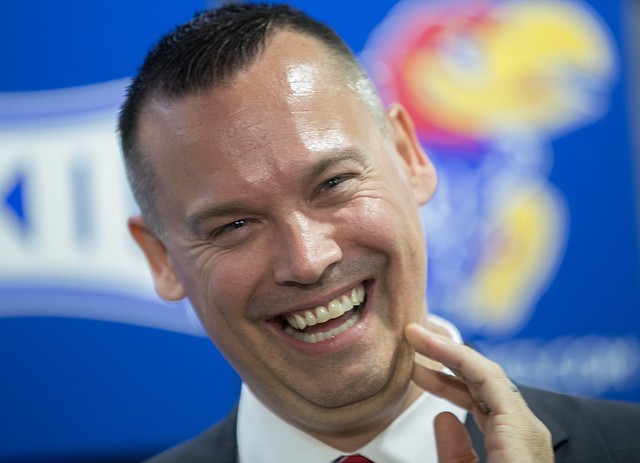 Brandon Schneider visits with reporters after his introduction Tuesday, April 21, 2015 as the new head coach of the KU women's basketball team.
Stories this photo appears in:

Entering his third season as women's basketball coach at Kansas, Brandon Schneider is almost starting from scratch, welcoming a recruiting class of seven players, including four from junior colleges.

First-year Kansas University women's basketball coach Brandon Schneider on Wednesday continued with the reunion theme in filling out his coaching staff by announcing the hiring of former Kansas assistant Aqua Franklin.
By J-W Staff Report
May 13, 2015 3:05 p.m.

Most coaches, by nature, are control freaks: "Go here. Don't go there. Do this. Don't do that." Almost to a man, coaches who have worked with male and female basketball players say that women follow instruction better. New Kansas University women's basketball coach Brandon Schneider said it Tuesday at his colorful introductory news conference. By Tom Keegan