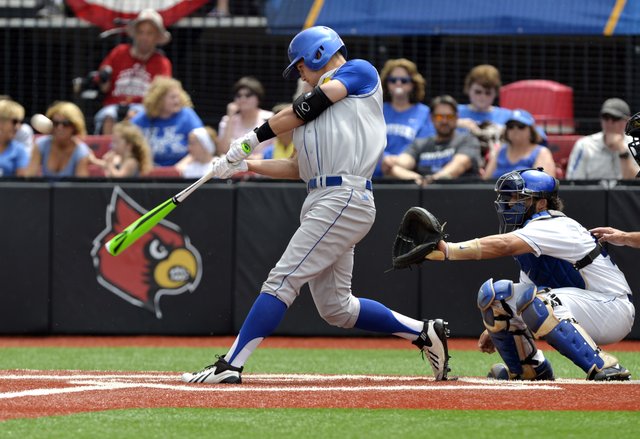 Kansas' Connor McKay, center, hits a foul against Kentucky during an NCAA college baseball regional tournament game in Louisville, Ky., Friday, May 30, 2014. Catching is Kentucky's Michael's Thomas. (AP Photo/Timothy D. Easley)
Stories this photo appears in:

On the heels of its 10-6, opening-day victory over No. 22 Kentucky in NCAA Baseball regional action, the KU baseball program announced early Saturday morning that today's game vs. No. 13 Louisville would be shown on ESPN2.

Kansas vs. Louisville to air live on ESPN 2
After Ritch Price's program went five seasons without an NCAA Tournament appearance, the coach's Kansas University baseball players didn't mind spending long stretches of Friday afternoon killing time at Louisville's Jim Patterson Stadium.
By Staff Reports
May 31, 2014 12:14 a.m.