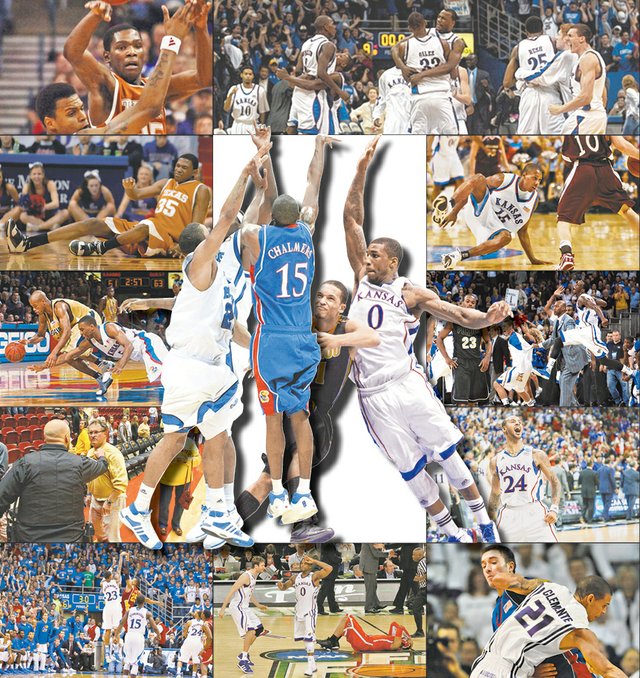 Scenes from some of the top comebacks in the Bill Self era at KU, counter-clockwise from top left: against Kevin Durant and Texas on March 11 (top) and March 3 (when Durant was hurt, below), 2007; versus Georgia Tech on Jan. 1, 2005; an upset ISU fan confronts Self on Feb. 25 of this year, and Ben McLemore (23) banks the tying three on Jan. 9, also against ISU; Thomas Robinson salutes after storming back against Ohio State on March 31, 2012; getting physical against Denis Clemente (21) and K-State on Feb. 14, 2009; Travis Releford lets out a roar against North Carolina on March 24, 2013; Tyshawn Taylor takes flight after a rally past Purdue on March 18, 2012; Mario Chalmers knocked to the deck by Southern Illinois on March 22, 2007; and a whole-team celebration after roaring past Oklahoma on Feb. 4, 2006. At the center are the consensus top comebacks in the Self era: the Mario Chalmers-led rally past Memphis in 2008, left, and Thomas Robinson-keyed comeback over Missouri in 2012.
Stories this photo appears in:

In Part 9 of our 10-part series that has looked back on the best players and most memorable moments of Kansas University men's basketball coach Bill Self's first 10 years in town, we'll tackle the games that most likely sent the blood pressure of all of those reading this to new heights — comebacks.