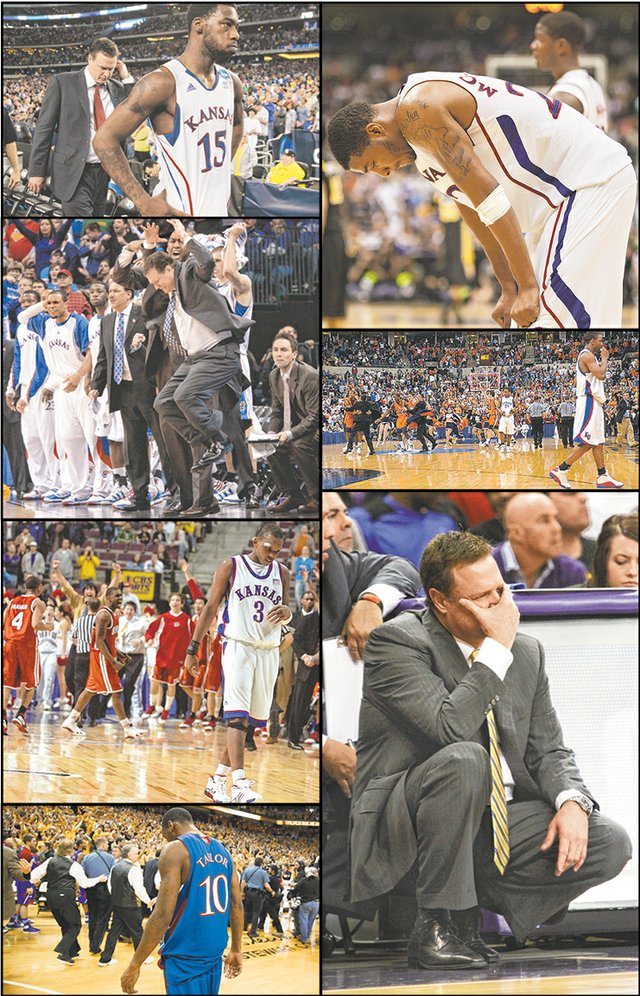 Scenes from some of the worst losses in the Bill Self era (we know it hurts): clockwise from top left, Self and Elijah Johnson (15) after a 2013 NCAA Tournament loss to Michigan; Marcus Morris hanging his head late in a tourney setback to Virginia Commonwealth in 2011; Bucknell players swarming the court after a first-round upset of KU in the 2005 NCAAs; Self unable to watch an unexpected loss at TCU five months ago; Tyshawn Taylor dejected after a regular-season loss at Missouri in 2012; Russell Robinson (3) getting out of the way of celebrating Bradley players after KU's first-round ouster from the NCAAs in 2006; and Self showing off his vertical in a second-round loss to Northern Iowa in 2010.
Stories this photo appears in:

KU coach Bill Self has lost just 59 games during his first 10 years in Lawrence. Because of their scarcity, many of those 59 losses have been tough for fans and players to swallow.