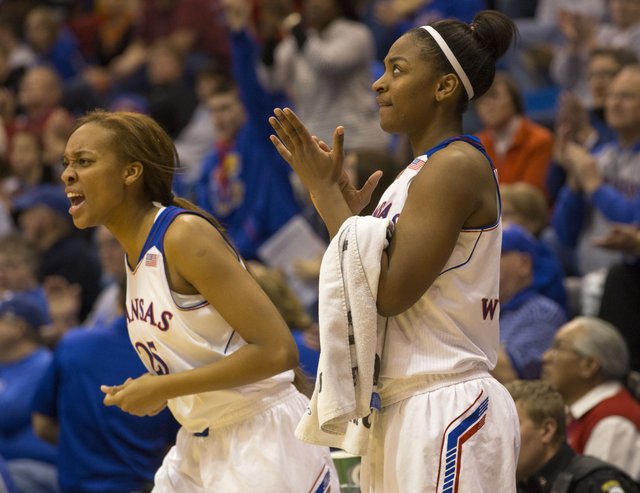 Kansas reserves Caelynn Manning-Allen, left, and Bunny Williams cheer from the bench late in the second half of their game against Tulsa, Sunday afternoon at Allen Fieldhouse. The Jayhawks won, 82-78, and will next face Yale on Dec. 29. 2013 in Lawrence.
Stories this photo appears in:

After a few days off to recharge their minds, spend time with loved ones and get away from basketball over winter break, the members of the Kansas University women's basketball team returned to Lawrence Thursday with some extra energy. By Matt Tait

CeCe Harper insists it had nothing to do with the holidays, but the Kansas University senior guard sure was in a giving mood during Sunday's 82-78 victory over Tulsa at Allen Fieldhouse. By Matt Tait

The Kansas University women's basketball team used fast starts to the first and second halves to hold off a scrappy Tulsa team 82-78 Sunday at Allen Fieldhouse.