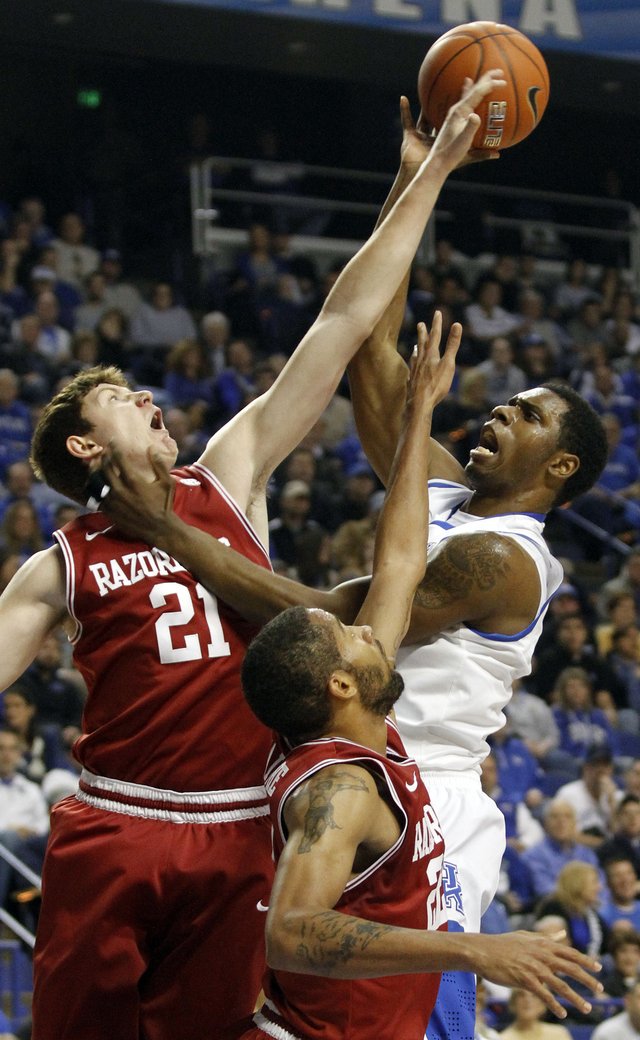 Kentucky's Terrence Jones, right, puts up a shot under pressure from Arkansas' Hunter Mickelson (21) and Marvell Waithe during the first half of an NCAA college basketball game in Lexington, Ky., Tuesday, Jan. 17, 2012.
Stories this photo appears in:

Able to practice but unable to play in games during the 2013-14 season, Arkansas transfer Hunter Mickelson will have plenty of time to familiarize himself with Kansas University's basketball program. By Gary Bedore

Coach also addresses open assistant coaching spot, says he will hire from outside
Kansas coach Bill Self announced the addition of Arkansas 6-foot-10 transfer Hunter Mickelson on Friday morning.

Big man says he's fan of KU tradition
Hunter Mickelson, a 6-foot-10, 245-pound sophomore power forward from the University of Arkansas, who recently announced plans to transfer, has committed to play basketball at Kansas University, his dad Darien Mickelson confirmed to the Journal-World on Thursday. By Gary Bedore