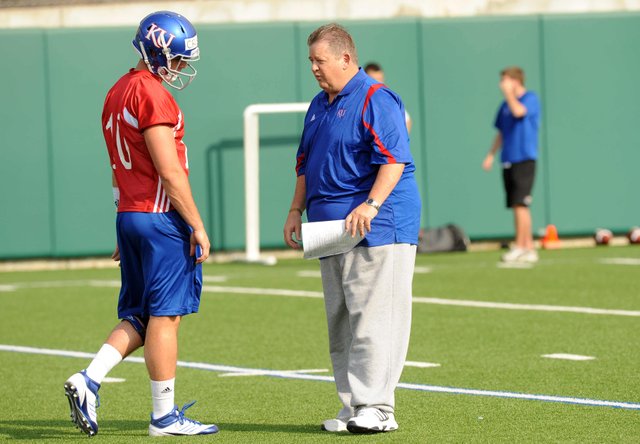 Kansas University quarterback Dayne Crist, left, listens to KU coach Charlie Weis during spring drills on Tuesday, March 27, 2012, at the practice fields south of Memorial Stadium.
Stories this photo appears in:

One of the eye-opening bits of information that came from a recent sit-down with Kansas University football coach Charlie Weis was the fact that the man keeps a mattress and blankets in his office so he can grab some quick sleep before getting back to work without having to go home for the night.

Today's spring finale won't be just 'glorified scrimmage'
Whether it's played in front of a record crowd or not, it sure sounds like today's Kansas University spring football game — 1 p.m. kickoff at Memorial Stadium — is going to be a bit different than previous editions.

It may have taken Kansas University athletic director Sheahon Zenger 11 days to find new football coach Charlie Weis last December, but it took only about 10 minutes on Tuesday to comprehend how much Weis already had changed the culture at Kansas.