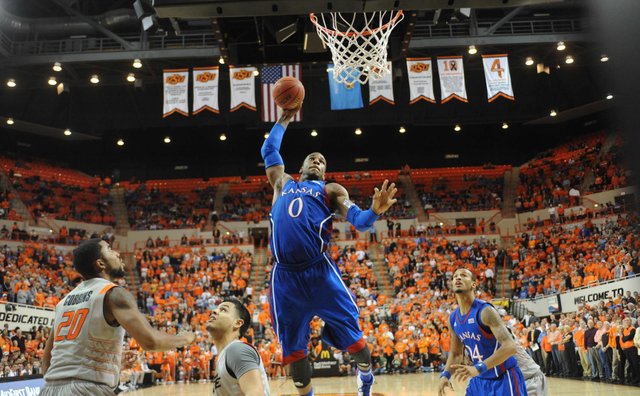 Kansas forward Thomas Robinson goes up for a dunk against Oklahoma State on Monday, Feb. 25, 2012, at Gallagher-Iba Arena in Stillwater, Okla.
Stories this photo appears in:

Former Kansas All-American Thomas Robinson is bringing an elite basketball experience for children ages 9-17 to the Sunflower State later this month. By Matt Tait

MU coach Frank Haith named coach of year
Kansas University junior power forward Thomas Robinson on Monday was named the Associated Press Big 12 Player of the Year one day after the conference coaches accorded him the same honor.

After dancing with the Big 12 trophy late Monday night in a jubilant visitor's locker room, Kansas University team leaders Tyshawn Taylor and Thomas Robinson modeled their '8 Str 8 Champs' T-shirts and hats for media members in the Gallagher-Iba interview area.