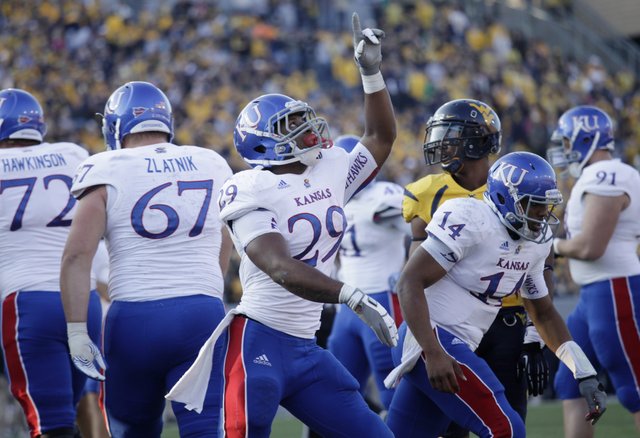 Kansas running back James Sims (29) celebrates a touchdown in KU's last football game Saturday against West Virginia University in Morgantown, W.Va.
Stories this photo appears in:

Tony Pierson, Brandon Bourbon and Taylor Cox are faster than James Sims. Bourbon and Cox weigh more than Sims. Darrian Miller and Pierson are even more slippery than Sims. So what is it about the senior from Irving, Texas, that enables him to keep his role as the Kansas University football team's featured running back? By Tom Keegan

During a disappointing 2012 season, Kansas University junior James Sims became the 11th Jayhawk all-time to rush for 1,000 yards or more in a single season and established himself as one of the top backs in the Big 12. While a playing future beyond college football now looks likely for the junior from Irving, Texas, Sims says he's not considering a jump to the NFL just yet. By Matt Tait

When Kansas University junior James Sims was suspended for the first three games of the 2012 season after a DUI arrest this summer, many wondered if KU's leading rusher from the previous two seasons would lose his featured spot in the Jayhawks' backfield.