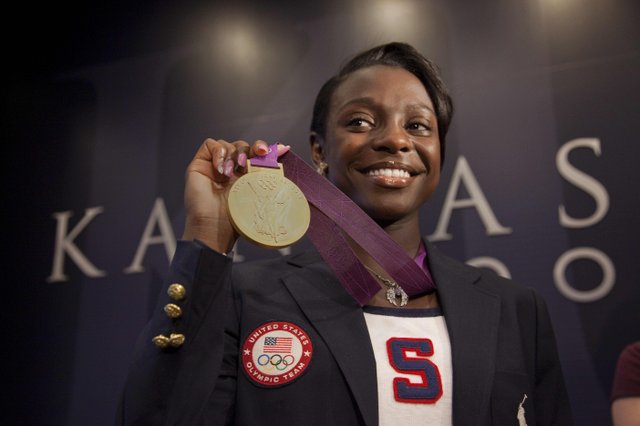 Kansas University runner and Olympic athletic Diamond Dixon shows off her gold medal during a press conference at KU's Anderson Family Football complex on Wednesday.
Stories this photo appears in:

Many described Diamond Dixon as shy. Others even said unfriendly, using the labels as if she had been born with those traits, as if nothing in her background had contributed to the cocoon she had built around herself. Now that she wears a smile that goes so well with her Olympic gold medal and sprinkles feel-good dust on everyone within range of its radiant glow, few seem to spend much time wondering how she has come so far so quickly. Everyone is just glad she did because the emerging personality is loaded with charm and sweetness.

Diamond Dixon had just the right accessory to wear over her Ralph Lauren-designed white "Team USA" dress and blue blazer on Wednesday.