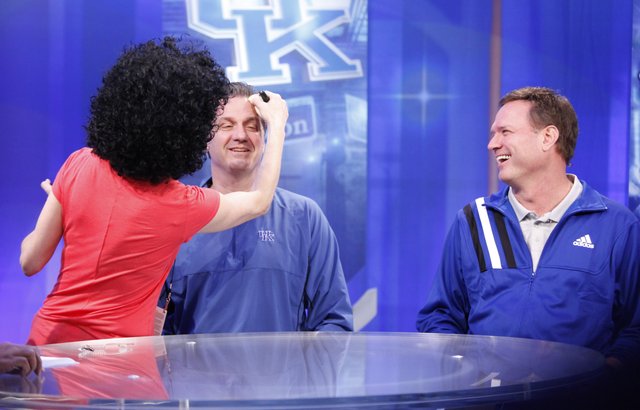 Kansas head coach Bill Self smiles at Kentucky head coach John Calipari as the two sit for makeup before their joint CBS interview on Sunday, April 1, 2012 at the Superdome.
Stories this photo appears in:

Kansas University has played NCAA Tournament finalist Kentucky 27 times and Connecticut twice. By Gary Bedore

Kentucky basketball coach John Calipari and KU coach Bill Self rank as the top two recruiters of all head coaches in the country, according to a summer survey of 200 coaches by ESPN.com. By Gary Bedore

Kansas University's basketball team does not like to lose. Period. But to be taken down by the same opponent twice in one season? That's especially distasteful to team leaders Tyshawn Taylor and Thomas Robinson, eager to take the court against Kentucky tonight in an NCAA championship game (8:23 p.m., Superdome) that's a rematch of a 75-65 Kentucky victory on Nov. 15 in New York.