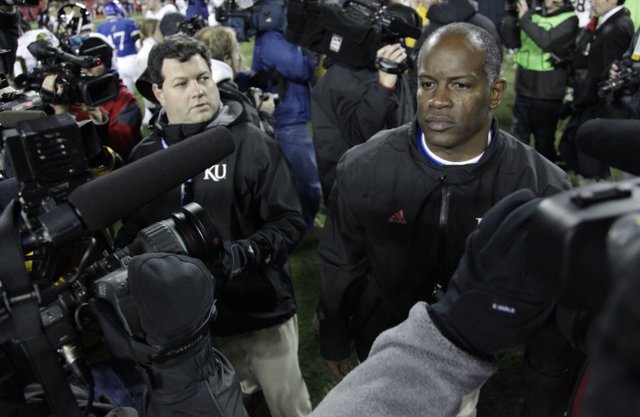 Kansas head coach Turner Gill leaves the field after KU's loss to Missouri in the Border War on Saturday, Nov. 26, 2011 at Arrowhead Stadium.
Stories this photo appears in:

The inevitable roster upheaval that occurs when coaching changes take place in college football makes it particularly difficult to try to forecast starters, just shy of four months from the season-opener. But for the purpose of looking at Turner Gill's impact on the Kansas University football program during his two-year stay, let's give it a try.

His goal was to turn Kansas University football into a dynasty, but the experiment ended with him going down as one of the least successful coaches in school history.

Two years ago, after Mark Mangino had just coached his final game for Kansas University with a loss to Missouri and a seven-game losing streak, he spoke into a microphone on the table in front of him. His last words after eight years on the job: "I will tell you that I may be one of the more pleasant people to deal with in college football. Trust me."