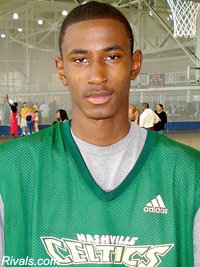 DeAndre Daniels, the No. 10-ranked player according to Rivals.com in the class of 2011.
Stories this photo appears in:

Huskies make late push for prize recruit, who spurns KU
Prize college basketball recruiting prospect DeAndre Daniels, who for the longest time had listed Kansas University, Texas and Oregon as his three finalists, has decided to play college basketball at ... Connecticut.

No telling when saga with prep will end
No. 10-rated basketball prospect DeAndre Daniels will sign a financial-aid agreement with a college at some point.
DeAndre Daniels, a 6-foot-8 small forward from IMG Academies in Bradenton, Fla., has delayed his decision on a college until Thursday morning.