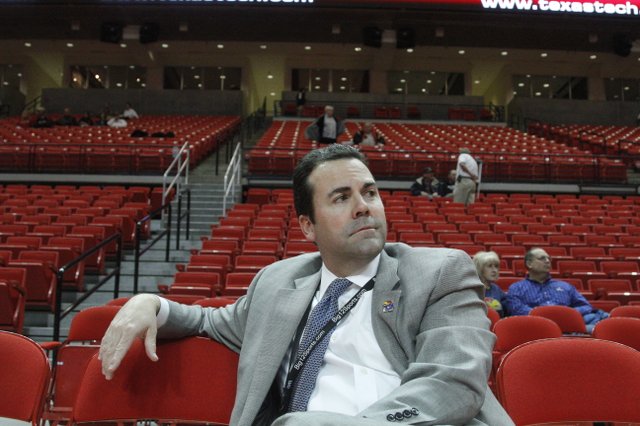 Kansas University athletic director Sheahon Zenger watches the Jayhawks warm up before tip off against Texas Tech on February 1, 2011.
Stories this photo appears in:

Last Saturday afternoon, during the Final Four festivities in Phoenix, Kansas basketball coach Bill Self was honored as one of 11 members of the Naismith Memorial Basketball Hall of Fame's 2017 class. Last week, the Journal-World began a series that examined Self's path to the Hall of Fame by hearing from a few people who know him best, and, this week, the series concludes with new installments. By Matt Tait

The TV partnership with Time Warner helps increase the Kansas brand, even though it means for two exhibitions and four real games ripping the remote out of the hands of so many people who cherish KU basketball as the most important form of entertainment in their lives. By Tom Keegan

Fans of Kansas University football may be growing tired of the silence surrounding KU's quest to find a new head coach, but there are those out there who are impressed by the crafty way with which KU athletic director Sheahon Zenger has conducted the search.