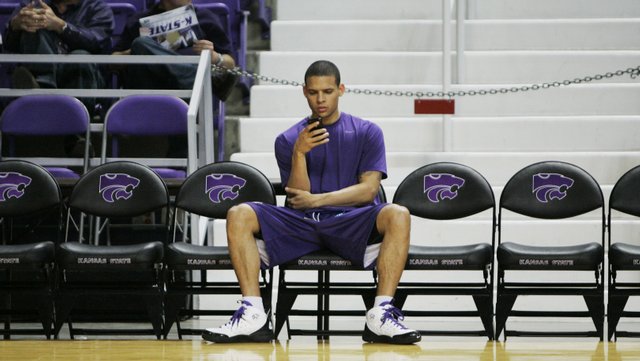 Kansas State guard Denis Clemente sits on the bench while his team warms up for their game against North Carolina Central in Manhattan, Kan., Tuesday, Feb. 17, 2009.
Stories this photo appears in:
The first few shots, over the backboard, the kneeling three-pointer, seemed plausible. Doubt crept in as the fullcourt jumpers swished in a little too easy. By the time Larry Bird and Michael Jordan started calling bank off the scoreboard and through windows, well, there wasn't much question the shots were made in the editing room, not on the court.
Denis Clemente is driven by the legacy of a man he never met. Passionate, competitive, motivated to become the best at whatever he does — so much of what defines Kansas State's point guard comes from his connection to a second cousin who died 14 years before he was born: Puerto Rican baseball great Roberto Clemente.
Dominique Sutton scored 16 points and Luis Colon had 12 points and 12 rebounds to lead Kansas State over road-weary North Carolina Central on Tuesday night. The Wildcats (18-8) played without leading scorer Denis Clemente, who was suspended for one game by coach Frank Martin for an altercation in Saturday's 85-74 loss to Kansas.