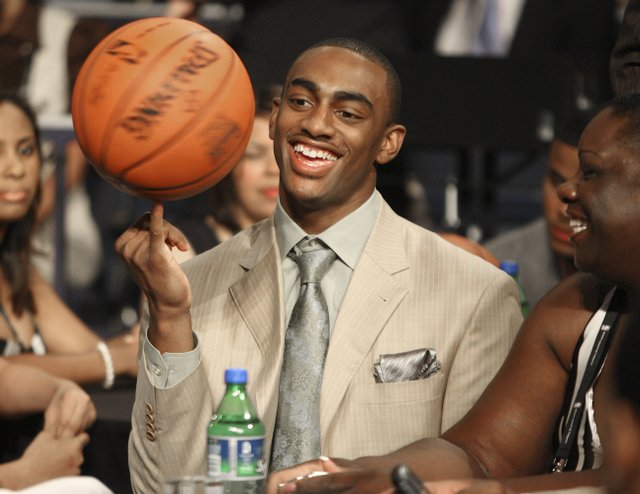 Kansas' Darrell Arthur plays with a basketball at his table in the green room before the start of the first round of the NBA Draft. Arthur fell to the 27th pick of the first round and was traded three times before the night ended but said he was happy he landed in Memphis.
Stories this photo appears in:

Even 10 years later, looking at who should have gone where in the 2008 NBA draft has a subjective element to it.

Arthur trying to find role with Grizzlies
Most rookies at the NBA Summer League learn that pro ball is a whole different game compared to what they just came from playing. Memphis Grizzlies forward Darrell Arthur was no different last summer in Las Vegas. But his true eye-opening experience came about six weeks later.

Arthur already over draft-night fiasco
Darrell Arthur, one of the heroes of Kansas University's national championship victory over Memphis, was introduced to the media and public as a member of the NBA's Grizzlies on Friday in Tennessee. The 6-foot-9, 225-pound forward from Dallas was asked at a news conference what he had to say to Memphis Tigers fans, still steamed that his 20-point, 10-rebound effort helped the Jayhawks to a 75-68 overtime victory in San Antonio.