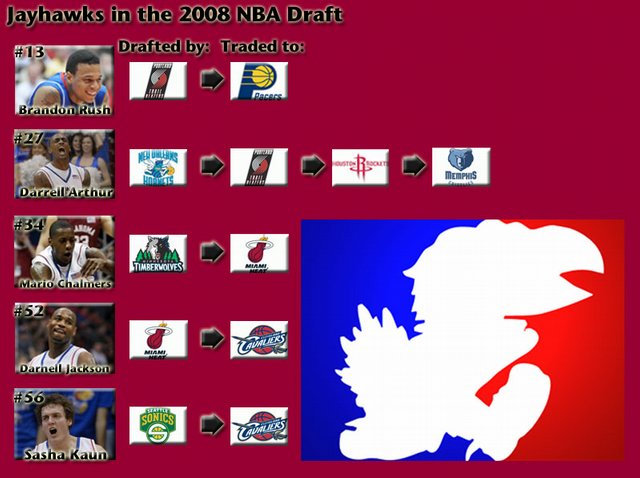 All Jayhawks drafted in the 2008 NBA Draft were traded at least once.
Stories this photo appears in:

Somebody done somebody wrong, and the second somebody is Kansas University forward Darrell Arthur. This became obvious to the world when Arthur was queried on national television about a reported kidney issue that led to him tumbling in the draft. "My health is fine," Arthur said. "I took another blood test in Washington, and everything came out fine, but I guess those guys never contacted anybody. Everything is cool."

KU produces record five players in draft
The Kansas University basketball team scripted some suspenseful moments on the way to the 2008 national championship, and NBA Draft night turned out to be more of the same for the Jayhawks. Three dramatic storylines evolved as Brandon Rush, Darrell Arthur and Mario Chalmers combined to make Kansas history. For the first time since 1989, when the draft was trimmed to two rounds, more than two Jayhawks were selected in a single draft. Rush was a lottery pick, Arthur became the sympathetic figure who dropped lower than expected, and Chalmers, who will always hold a special spot in KU history, was taken in the second round.
Rush, Arthur only two in first round
Kansas University tied an NBA record by having five players taken in Thursday night's draft, but only two players were selected in the first round. Many expected this to be the first time KU had three players selected in the first round of the same draft, but it didn't happen.