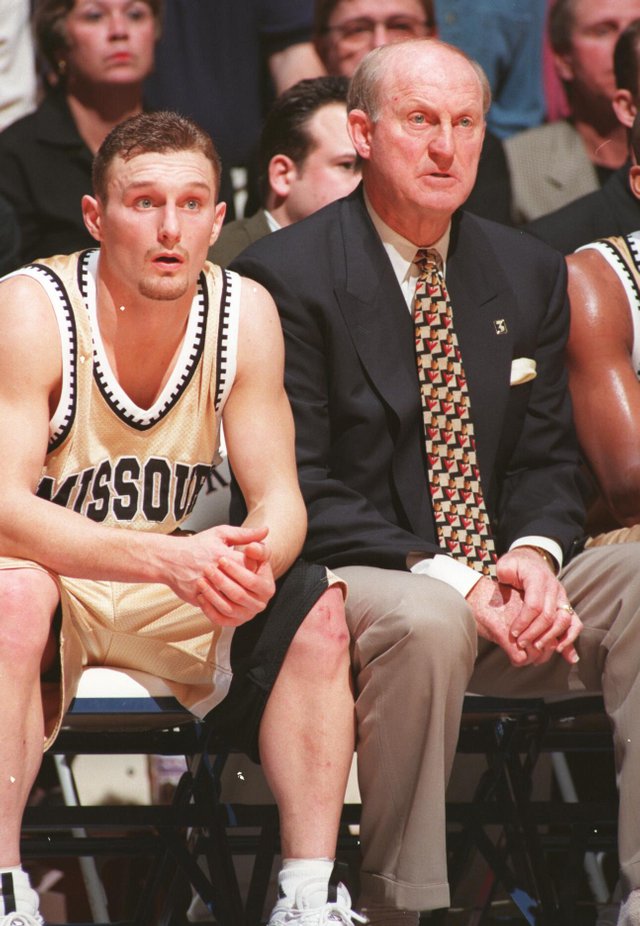 KU fans loved to hate curmudgeonly former Mizzou coach Norm Stewart, at right in photo. But current MU coach Mike Anderson seems to have escaped the ire of the Jayhawk Nation.
Stories this photo appears in:

Former Tigers coaches Norm Stewart and Quin Snyder did their part to stoke the Border War nastiness, but new coach Mike Anderson 'brings a little more class' to the storied rivalry
Kansas University basketball fans loved to hate Missouri's Norm Stewart. They lived to pester Quin Snyder. But they've been pretty placid — some might say downright respectful — toward fourth-year Tiger basketball coach Mike Anderson.

Ex-Jayhawk tormentor/Tiger Sutherland gives football a shot - on the Kansas side
If not for legendary Missouri basketball coach Norm Stewart, Kansas University fans might have had 20 more games to heckle Jason Sutherland. Sutherland, the fiery former Mizzou point guard who undoubtedly ranks high on KU fans' list of least favorite opponents, actually considered playing football at Missouri before Stewart sacked the idea. Today, 11 years after playing his last game of roundball for the Black and Gold, Sutherland finds himself playing out his football passion - for a team in Kansas, no less.