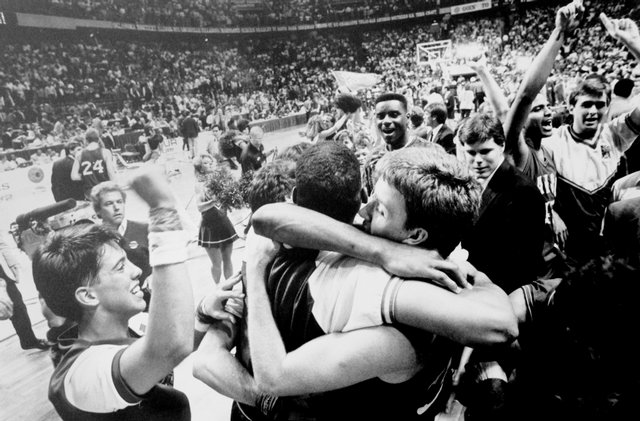 Kansas' Jeff Gueldner, right, is at the center of this hug scrum as time ran out on the 1988 national title game.
Stories this photo appears in:

The Kansas University men's basketball team will wear 1988 throwback jerseys today against TCU as part of a 115 Years of KU Basketball celebration that will also honor the KU title team's 25-year anniversary. By Gary Bedore
Jayhawks won it all 20 years ago
Where were you, when the clock hit 10:09 p.m. on April 4, 1988? Where were you, when Ricky Grace heaved a three-pointer that thunked off the backboard and fell into Danny Manning's hands at the buzzer? When Kansas University's men's basketball team beat Oklahoma, 83-79, to win its last national championship 20 years ago - a jubilant Monday night in Kansas City, Mo. - just where were you?