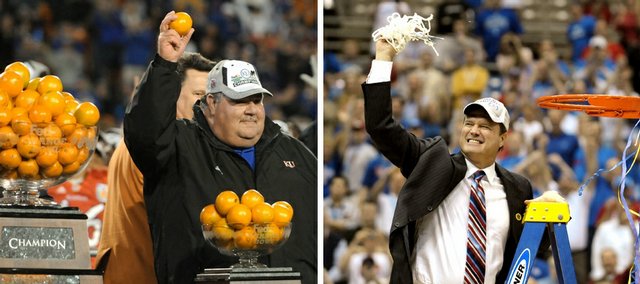 Kansas University head football coach Mark Mangino, left photo, basks in his team's 2008 Orange Bowl victory, and KU basketball coach Bill Self, right photo, revels in his team's 2008 National Championship.
Stories this photo appears in:

I wasn't there for Bob Hemenway's commencement address, but I know many folks who heard it weren't pleased with the Kansas University chancellor. Hemenway, they felt, put too much emphasis on the Jayhawks' football and men's basketball accomplishments and not enough on academics.

Stellar athletic year may boost enrollment, donations
It's been a banner year for Kansas Athletics: an Orange Bowl victory for the football team and a National Championship for the basketball team. In addition to promoting good feelings across campus, there's the chance that all of this promotion - something that a value can't easily be affixed to - will provide tangible benefit to the university.