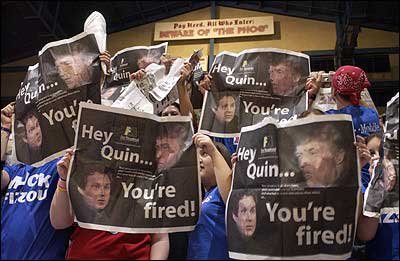 Kansas University fans hoist newspapers denouncing Missouri
basketball coach Quin Snyder. The ad appeared in the University
Daily Kansan and was purchased by Doug Compton, a longtime friend
of Snyder's. Compton is angry about the ad content.

Stories this photo appears in:

Former Tigers coaches Norm Stewart and Quin Snyder did their part to stoke the Border War nastiness, but new coach Mike Anderson 'brings a little more class' to the storied rivalry
Kansas University basketball fans loved to hate Missouri's Norm Stewart. They lived to pester Quin Snyder. But they've been pretty placid — some might say downright respectful — toward fourth-year Tiger basketball coach Mike Anderson.