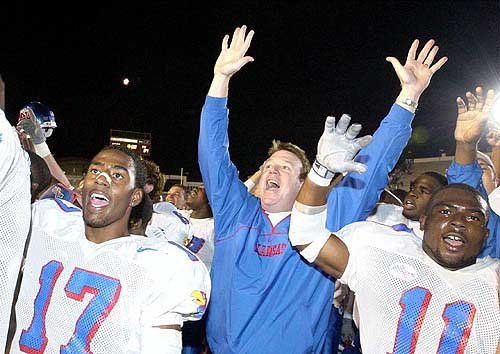 KU coach Terry Allen, center, celebrates with Mario Kinsey, left, and Reggie Duncan. The Jayhawks downed Texas Tech, 34-31 in double overtime, in 2001 in Lubbock, Texas. Allen coached at KU from 1997-2001.
Stories this photo appears in:

After 35 years in the coaching ranks, including a five-year stint at the helm of Kansas University's football program from 1997-2001, Terry Allen is not calling plays from the sidelines this fall.

QB Kinsey directs KU to 'huge' win over Tech
By Robert Sinclair Two hours before kickoff Saturday night, Kansas University quarterback Mario Kinsey was throwing passes to teammate Marcellus Jones in an empty Jones SBC Stadium. Five and a half hours later, the stadium was filled, but it was just as quiet after Kinsey directed a miraculous come-from-behind, 34-31, double-overtime Big 12 victory over Texas Tech.