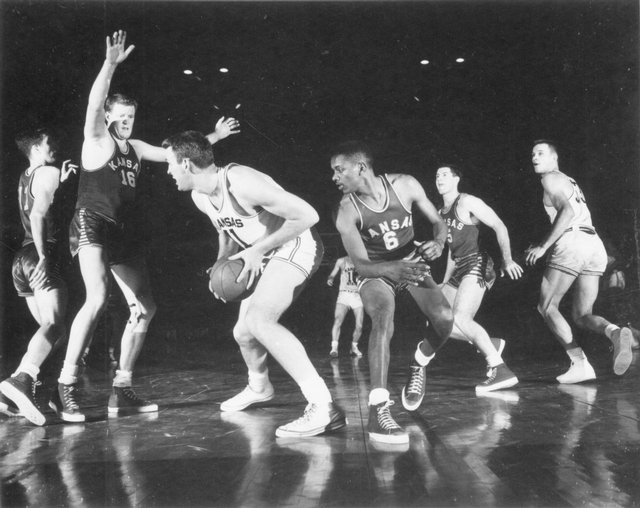 The 1951-1952 Kansas University basketball team practices in this file photo. The team, which featured Bill Lienhard (#11), Clyde Lovellette (#16), LaVannes Squires (#6) and Charlie Hoag (#5), notched the program's 700th victory by defeating Missouri in a game played in Kansas City, Mo. The Jayhawks later went on to defeat St. John's in the national championship game, 80-63.
Stories this photo appears in:

Kansas men's basketball legend Clyde Lovellette died Wednesday evening at his home in North Manchester, Indiana, his daughter Cindy confirmed. Lovellette, who had been battling cancer, was 86.

I had to go deep into our dusty 6Sports archives for today's Jayhawk Flashback — one that will take us back some 58 years.

Saturday night was destined to be a great one for Kansas University's basketball team -- a time of celebration as the Jayhawkers walked out of Kansas City's Municipal Auditorium with the Big Seven tournament championship trophy.