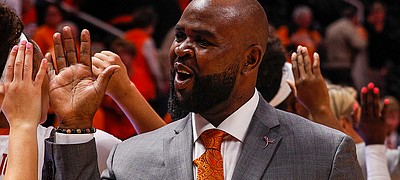 One of Kansas basketball's all-time favorite walk-ons is coming back to Lawrence. On Thursday night, KU women's coach Brandon Schneider announced that Terry Nooner would join the Kansas women's basketball coaching staff as an assistant coach. By Matt Tait

The Kansas women's basketball team will travel to Oxford, Miss., this season to take on Ole Miss in the SEC/Big 12 Challenge, the Big 12 Conference announced Thursday.

University of Kansas Athletic Director Jeff Long on Wednesday announced staffwide furloughs and pay cuts for all Kansas Athletics employees, including coaches, from June 1 through the end of 2020. By Matt Tait

The NCAA Division I Council voted Wednesday to lift a moratorium on voluntary workouts by football and basketball players effective June 1 as a growing number of college leaders expressed confidence that fall sports will be possible in some form despite concerns about the coronavirus pandemic.
By Steve Megargee, AP Sports Writer
May 20, 2020 7:21 p.m.

Kansas basketball coach Bill Self and some of the school's other coaches were back in their offices this week — albeit with a host of COVID-19-related precautions and new routines. By Matt Tait

The NCAA's recent show of support for compensation through endorsement deals for college athletes was a win for the athletes. But there are still so many questions to ask, loopholes to close and concerns to consider before this development can be called a success for college athletics. By Matt Tait

The NCAA is moving closer to allowing Division I athletes to earn money from endorsements and sponsorship deals they can strike on their own as early as next year.
By Ralph D. Russo, The Associated Press
April 23, 2020 3:15 p.m.

Kansas women's basketball coach Brandon Schneider is relying on an ever-present list of names to help him fill an unexpected opening on his coaching staff during the current health crisis. By Matt Tait

While colleges and universities across the country wrestle with the idea of cutting sports to save money in the midst of the COVID-19 crisis, University of Kansas Athletic Director Jeff Long said no such discussions had taken place in Lawrence. By Matt Tait

The Kansas women's basketball program on Monday announced that its top assistant, Larry Tidwell, was stepping down from his role as associate head coach. By Matt Tait

The Kansas women's basketball team during the 2019-20 season endured another rough run through its Big 12 Conference schedule. But, as a whole, KU Athletic Director Jeff Long called KU's fifth season under head coach Brandon Schneider, "a small step forward." By Matt Tait
Pay cuts taken by coaches in the Iowa State University athletic department this week will not be replicated at the University of Kansas for now, KU Athletic Director Jeff Long said. By Matt Tait

An athletic trainer at the University of Kansas was aware of "at least some reports of unwarranted and unwanted touching" by a massage therapist who worked with female student athletes, university leaders said Tuesday. Shawn P. O'Brien, who has been charged with aggravated indecent liberties with a child in an unrelated court case, allegedly conducted himself inappropriately with "at least six female student-athletes," according to a statement from Chancellor Douglas Girod and Athletic Director Jeff Long.
March 24, 2020 10:18 a.m.

You don't expect to hear the words "incredibly awkward times" come from the mouth of a college administrator with three-plus decades of experience who prides himself on having seen just about everything. By Matt Tait

The NCAA canceled its men's and women's basketball tournaments on Thursday because of the spread of coronavirus, putting an abrupt end to the season less than a month before champions were to be crowned.
By Ralph D. Russo, Associated Press
March 12, 2020 3:30 p.m.
May 2020
December 2019
October 2019
January 2019
December 2018
September 2018
February 2018
January 2018
December 2017
November 2017
October 2017
July 2017
June 2017
March 2017
February 2017
January 2017
December 2016
November 2016
March 2016
Previous Next