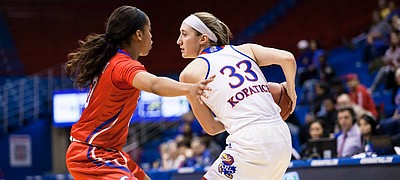 Self-described as a formerly "wide-eyed, deer in headlights kind of person," Kylee Kopatich has emerged as one of the leaders of the Kansas women's basketball team heading into her junior season. By Scott Chasen

After saying it at Late Night, Brandon Schneider wanted to affirm his message. By Scott Chasen

Sure, women's basketball coach Brandon Schneider won big at the Div. II and mid-major levels, but would he be able to go up against heavyweights in recruiting battles and come away with commitments from prospects capable of playing winning basketball in the Big 12?

One day after watching all of the Late Night in the Phog festivities, the Kansas women's basketball team picked up three commitments from recruits in attendance.
By Staff Report
October 1, 2017 7:36 p.m.

The first day of women's basketball practice isn't until Oct. 3, so the Kansas women's team didn't get to scrimmage as part of Late Night, but still participated.

A few hours before the release of the men's conference schedule, the Big 12 Conference released the complete women's basketball schedule for the upcoming season.

Just as 2015 WNBA MVP Elena Delle Donne was taking the court Thursday night to help the Washington Mystics to a 67-54 victory against the New York Liberty, Angel Goodrich was taking a break from a long day of work at the Native Top 50 basketball camp at Haskell University. By Tom Keegan

Entering his third season as women's basketball coach at Kansas, Brandon Schneider is almost starting from scratch, welcoming a recruiting class of seven players, including four from junior colleges.

Lynette Woodard, the leading scorer in Div. I college basketball history, is well aware of Danny Manning's coach success and is not the least bit surprised by it.
The Kansas women's basketball team made a late charge in the fourth quarter, but it fell short and the Jayhawks' season ended Friday night in Chesapeake Energy Arena.

After not playing for the sixth time in eight games in Friday night's season finale, a 79-75 loss to Oklahoma State in the Big 12 women's basketball tournament, Kansas sophomore guard McKenzie Calvert discussed with two reporters a Dec. 9 incident that led to KU men's player Josh Jackson being charged with misdemeanor criminal damage to her car.
The Kansas women's basketball team will face Oklahoma State tonight in the Big 12 Tournament.

Kansas women's basketball coach Brandon Schneider made a big splash when Jessica Washington and McKenzie Calvert, big names among those familiar with hotshot women's basketball recruits, announced they were transferring from North Carolina and USC. So far, Schneider is batting .500.

The Kansas women's basketball team's 2-16 record in conference play didn't dissuade the Big 12's coaches from choosing the Jayhawks' top player, junior guard Jessica Washington, as the conference's Newcomer of the Year.
West Virginia built a 16-point first-quarter lead and went on to defeat Kansas, 73-54, in Big 12 women's basketball Monday night in Morgantown, W.Va.
July 2017
June 2017
March 2017
February 2017
January 2017
December 2016
November 2016
March 2016
February 2016
January 2016
December 2015
November 2015
October 2015
May 2015
April 2015
Previous Next