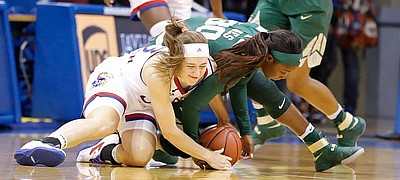 Kansas women's basketball coach Brandon Schneider knew his team had to slow the game down and minimize possessions in order to keep up with No. 2 Baylor and its offensive firepower Sunday. By Evan Riggs

Kansas junior guard Jessica Washington poured in a career-high 31 points in her first taste of the Sunflower Showdown rivalry, but even that wasn't enough for the Jayhawks to put an end to their Big 12 losing streak Wednesday night at Kansas State.

Winless in the Big 12 heading into the game, Iowa State had no trouble dominating Kansas from the start Saturday on the way to an 87-58 women's basketball victory at Hilton Coliseum in Ames, Iowa.
By J-W Staff Report
January 9, 2017 12:31 a.m.

For much of the first half and even parts of the second, Kansas was right there within arm's reach of pulling off the ugly upset over No. 15 Texas.
January 4, 2017 11:11 p.m.

When teams fall behind, they often try to shoot themselves back into games and lose focus on executing offensively. Kansas did that Sunday, and it played right into No. 3 Baylor's hands.
Who: Kansas vs. Baylor When: 2 p.m. Sunday Where: Ferrell Center Series: Baylor leads, 25-8

In Thursday's Big 12 opener against Oklahoma, the Kansas women's basketball team made five shots in the first three minutes. Then the Jayhawks missed nine straight shots and never recovered in an 84-54 loss at Allen Fieldhouse.
December 29, 2016 10:25 p.m.
A preview of the Kansas women's basketball team's game against Oklahoma on Thursday.

With 12 lead changes in the second half against UC-Riverside on Wednesday, the Kansas women's basketball team kept turning to sophomore McKenzie Calvert.
December 21, 2016 10:54 p.m.

Down by double-digits midway through the third quarter, Arizona guard Malena Washington decided to let the ball roll in front of her as she walked up the court, waiting until the last possible second to pick it up in attempt to savor the clock.
December 17, 2016 6:19 p.m.

Over the last three games, Kansas women's basketball sophomore Kylee Kopatich only attempted 12 shots. Without sophomore guard McKenzie Calvert available on Sunday afternoon, Kopatich picked up the slack by taking a career high 17 shots.

Kansas women's basketball coach Brandon Schneider chose to shake things up after his team had dropped its last two games. By Shane Jackson
December 7, 2016 10:22 p.m.
Alabama tied the game with a three-pointer at the end of regulation and defeated Kansas, 71-65 in overtime, in women's basketball Sunday in Coleman Coliseum.
The Kansas women's basketball team saw its three-game winning streak snapped Wednesday in a 69-49 loss against Creighton at D.J. Sokol Arena.
By J-W Staff Report
December 1, 2016 midnight
A preview of the Kansas women's basketball team's game at Creighton on Wednesday.
January 2017
December 2016
November 2016
March 2016
February 2016
January 2016
December 2015
November 2015
October 2015
May 2015
April 2015
March 2015
Previous Next