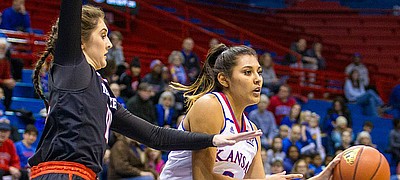 Brianna Osorio's 28-point performance was just about the only thing KU coach Brandon Schneider reflected favorably upon after a loss to Texas Tech.
Outscored by 19 points in the second half Saturday, the Kansas women's basketball team dropped its third straight game in a 79-62 loss to Texas at the Frank Erwin Center. All three of the losses are against ranked opponents.

Immediately following KU's loss to West Virginia, the two head coaches couldn't have differed any more in their comments. By Scott Chasen

For the first four minutes of the Kansas women's basketball team's 83-48 loss to No. 6 Baylor, the Jayhawks went possession-for-possession with the Big 12 powerhouse on Saturday at Allen Fieldhouse. By Chris Duderstadt
January 6, 2018 6:33 p.m.

It took third-year Kansas women's basketball coach Brandon Schneider 27 tries to win his first regular-season Big 12 game. It took him three tries to win two of them this season. That's what progress looks like.
The Kansas women's basketball team matched its Big 12 win total from last season after a 60-47 victory over Texas Tech on Wednesday at United Supermarkets Arena.
January 3, 2018 10:27 p.m.

Kansas junior Kylee Kopatich dished out a career-high nine assists, and was one of four Jayhawks in double figures in their 86-77 win over TCU on Sunday at Allen Fieldhouse. Four Jayhawks scored in double figures between Christalah Lyons (18 points), Kopatich (17), Brianna Osorio (15) and Austin Richardson (10).
December 31, 2017 6:42 p.m.
Ahead by 1 with less than 30 seconds left, the KU women's basketball team was unable to snag its first win on the road in conference play.
By Staff Report
December 28, 2017 9:05 p.m.
Austin Richardson completed a double-double and the Kansas women's basketball team rolled past Iona, 72-58, on Wednesday at Hynes Athletics Center.
By Staff Report
December 20, 2017 8:20 p.m.
After a potential game-winning shot from Kansas junior Austin Richardson was ruled no good following a monitor review at the end of regulation, the KU women's basketball team suffered a 65-53 overtime loss to St. John's on Monday in Queens, N.Y.

On a day when just about nothing bounced her way, Kylee Kopatich needed the extra second. Really, the whole team did. By Scott Chasen
Following his team's first loss of the season, it was a "four" on the box score that jumped out to KU coach Brandon Schneider. By Scott Chasen</strong

Kansas junior Kylee Kopatich scored a career-high 26 points to power the Kansas women's basketball team past Arkansas, 71-60, on Sunday in the Big 12/SEC Challenge at Allen Fieldhouse. Christalah Lyons and Tyler Johnson joined Kopatich in double figures with 15 and 10 points, respectively, to help the Jayhawks improve to 7-0.
December 3, 2017 7:29 p.m.

UMKC coach Jacie Hoyt didn't want to let KU's Kylee Kopatich get into a rhythm. Fortunately for the Jayhawks, they had another player step up. By Scott Chasen

While Brianna Osorio didn't have the flashiest night, the JUCO transfer scrapped for three important plays down the stretch of KU's grind-it-out win over Rice at Allen Fieldhouse. By Scott Chasen
January 2018
December 2017
November 2017
October 2017
July 2017
June 2017
March 2017
February 2017
January 2017
December 2016
November 2016
March 2016
February 2016
January 2016
December 2015
Previous Next