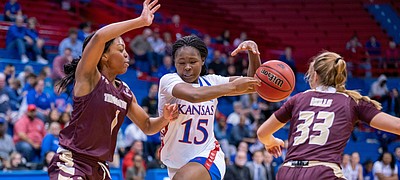 Senior forward Mariane De Carvalho stepped into a 3-pointer with under a minute to go, stretching the Kansas lead to 20 and putting an exclamation point on what proved to be a more stressful game than anticipated.
With three players setting career-highs in scoring and two in rebounding, Kansas rolled past FAU for a 90-60 win to clinch first place in the FAU Thanksgiving Tournament in FAU Arena on Saturday.
Behind freshman guard Zakiyah Franklin's career-high 19 points, Kansas came back to defeat Wright State, 74-63, in the opening game of the FAU Thanksgiving Tournament in FAU Arena on Friday.
The Kansas women's basketball team eased past UMass Lowell for a 79-44 win Sunday afternoon in Allen Fieldhouse.

Fighting through defenders, Kansas sophomore Aniya Thomas somehow maintained her dribble and got back to the top of the key. Quickly, Thomas moved the ball to the corner and found freshman guard Zakiyah Franklin, who drove inside for a contested layup.
By Braden Shaw
November 13, 2019 10:11 p.m.
The Kansas women's basketball team won its second straight game in dominant fashion, beating the University of Illinois at Chicago by a 91-50 margin on the back of 17 points from leading scorer Aniya Thomas and a double-double from newcomer Tina Stephens.

Needing an offensive spark in the second quarter, freshman guard Holly Kersgieter found herself open on the wing. Fellow freshman guard Zakiyah Franklin promptly dished to Kersgieter for a 3-pointer to regain the lead for Kansas.
By Braden Shaw
November 7, 2019 10:20 p.m.
Kansas juniors Bailey Helgren and Tina Stephens dominated the second half to lead the KU women's basketball team to a 66-55 win against Emporia State in exhibition play Sunday afternoon at Allen Fieldhouse.
By Staff report
November 3, 2019 5:19 p.m.

According to KU's annual Equity in Athletics report, at the University of Kansas the average salary of head coaching positions of men's teams is over $1.5 million more than that of the head coaches of women's teams. The report, which was due Oct. 15 to the NCAA, was recently requested and acquired by the Journal-World. The report also notes that women's teams, in contrast to men's, lose millions of dollars a year.
By Lauren Fox
October 28, 2019 11:54 a.m.
The Kansas women's basketball team fell to Pitt State 90-82 in its first exhibition game of the 2019-20 season in Allen Fieldhouse on Sunday.
By Staff report
October 27, 2019 7:27 p.m.

With turnover in college basketball becoming more prevalent with the addition of the transfer portal and players leaving due to graduation or turning professional, coaches constantly have to adjust.

With losing nine players — including seven seniors — from the 2018-19 team, Kansas women's basketball has emphasized filling gaps this offseason.

World-famous rapper, producer and television personality Snoop Dogg will be the headlining performer at the University of Kansas' annual Late Night in the Phog.
By Staff Report
September 27, 2019 2:28 p.m.
The Big 12 released its 2019-20 conference schedule Wednesday morning.
Kansas will have 10 homes contests, including a pair of exhibition games, ahead of Big 12 play during Brandon Schneider's fifth season at the helm of the women's basketball program.
October 2019
January 2019
December 2018
September 2018
February 2018
January 2018
December 2017
November 2017
October 2017
July 2017
June 2017
March 2017
February 2017
January 2017
December 2016
November 2016
March 2016
February 2016
Previous Next