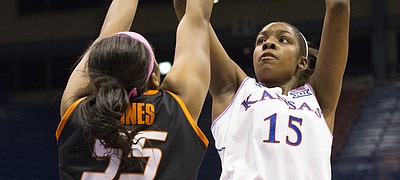 The Indiana Fever chose Chelsea Gardner of Kansas with the 21st overall pick in the WNBA draft Thursday night.
University of Arkansas Little-Rock women's basketball coach Joe Foley interviewed Wednesday for the Kansas University vacancy created by the firing of Bonnie Henrickson. By Tom Keegan
Brandon Schneider, Stephen F. Austin University's women's basketball coach, has emerged as a leading candidate to fill the vacancy at Kansas University created when Bonnie Henrickson was fired.
The more I learn about Iowa Western Community College basketball coach Jim Turgeon, the more I think he is the right fit to succeed Bonnie Henrickson to lead Kansas University's women's basketball program. By Tom Keegan
Kansas University senior women's basketball forward Chelsea Gardner earned honorable mention to the 2015 Women's Basketball Coaches Association All-America team, it was announced Saturday.
Sheahon Zenger wants to get it right, even if that means the naming of Kansas University's next women's basketball coach might not happen for another fortnight, even longer.
Former Kansas University women's basketball player Cheryl Burnett will be honored as a Missouri Sports Legend by the Missouri Sports Hall of Fame Saturday at the Ramada Oasis Convention Center in Springfield, Missouri, as part of the Women in Sports Luncheon.
March 18, 2015 11:08 p.m.
The Kansas University athletic department is in the beginning stages of another coaching search, this time for a women's basketball coach. As with any fantasy GM and/or real athletic director, I have five a list of five names of potential candidates in my pocket. By Tom Keegan

After enduring season after season of mostly sub-par play in the ultra-competitive Big 12 Conference, Kansas University athletic director Sheahon Zenger decided enough was enough and on Monday morning fired women's basketball coach Bonnie Henrickson. By Matt Tait

Kansas University rallied from a 13-point first-half deficit to take a late lead, but Kansas State came up big down the stretch for a 57-49 victory Friday night in the first round of the Big 12 women's basketball tournament.

Forty minutes. Roughly the time it takes to get from Lawrence to downtown Kansas City. The total running time of several of those primetime television shows — minus the commercials, of course. Or the number of minutes freshman Lauren Aldridge plays just about every time the Kansas University women's basketball team hits the floor.
Kansas University senior Chelsea Gardner has been selected to the all-Big 12 women's basketball first team.

As hard as it is for a program to say goodbye to four seniors like the ones the Kansas University women's basketball team said goodbye to on Monday night, big-time plays from a couple of freshmen sure made it easier. By Matt Tait

It was not until the 19th game of her freshman season that Kansas University forward Chelsea Gardner truly knew she could play in the Big 12. By Matt Tait
Kansas University hit 17 of 18 free throws in a 65-58 women's basketball victory over Oklahoma on Saturday.
By Staff Reports
February 28, 2015 11:10 p.m.
April 2015
March 2015
February 2015
January 2015
December 2014
November 2014
October 2014
March 2014
February 2014
January 2014
December 2013
Previous Next