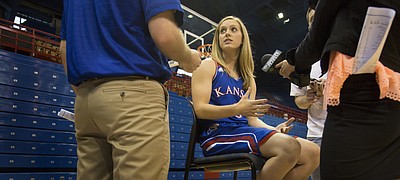 So much changeover exists within the Kansas University women's basketball program right now, you'll have to be patient with first-year head coach Brandon Schneider when it comes to figuring out one fairly significant aspect of this roster's makeup.
Kansas University's women's basketball team will play 17 of 29 regular-season games within the friendly confines of Allen Fieldhouse this season.

A Div. II national title at Emporia State. Back-to-back Southland Conference titles for Stephen F. Austin. Landed two highly regarded transfers shortly after becoming Kansas University's new women's basketball coach.

Kansas University sophomore Lauren Aldridge is educated enough to know that Becky Hammon being named the head coach of the San Antonio Spurs summer-league team in Las Vegas is not the most groundbreaking moment in her sport's history.

Sure, Brandon Schneider knocked it out of the park at his introductory news conference, and, yes, he has won everywhere he has been, but he never had recruited against heavyweights for superstars, so didn't it all just amount to talk or at best a potential upgrade?

Jessica Washington will sit out 2015-16 season
Kansas University on Tuesday officially announced that Jessica Washington, one of the top-ranked guards from the 2013 recruiting class, will transfer to KU from North Carolina.

Point guard from Tulsa was McDonald's All-American in high school
KU has landed a transfer in Jessica Washington, formerly of the University of North Carolina.
By J-W Staff Report
June 29, 2015 9:01 p.m.
More than half of Kansas University's student-athletes on active rosters recorded a grade-point average of 3.0 or higher, and 31 had a perfect 4.0 as the department recorded a combined GPA of 3.0 for the spring semester.
By Staff Reports
June 17, 2015 12:45 a.m.
New Kansas University women's basketball coach Brandon Schneider added a little experience, depth and talent to the program Friday, with the announcement that former USC guard McKenzie Calvert will join the Jayhawks as a transfer.
By J-W Staff Reports
June 12, 2015 4:19 p.m.

After a month of taking care of all the administrative duties that come with being the new head coach of the Kansas University women's basketball program, Brandon Schneider is finally ready to get to some basketball.
After a steady climb through the coaching ranks during the past few seasons, new Kansas University women's basketball assistant Damitria Buchanan elected to go back in time. By Matt Tait
Chelsea Lott, a 6-foot-3 center from Fort Bend Hightower High in Houston, has signed a grant-in-aid and will join Kansas University's women's basketball team for the 2015-16 season, KU coach Brandon Schneider announced Thursday.

Natalie Knight to remain with KU as graduate manager
Kansas women's basketball coach Brandon Schneider announced Wednesday the additions of Andy Majors (director of player development) and Donease Smith (director of basketball operations) to his coaching staff. Plus, Natalie Knight, a four-year starting guard for the Jayhawks, will remain with the team in the role of graduate student manager.

First-year Kansas University women's basketball coach Brandon Schneider on Wednesday continued with the reunion theme in filling out his coaching staff by announcing the hiring of former Kansas assistant Aqua Franklin.
By J-W Staff Report
May 13, 2015 3:05 p.m.

A quirk in the schedule that forced the postponement of last winter's Special Olympics clinic with the Kansas University women's basketball team turned out to be beneficial for first-year KU coach Brandon Schneider and his new team.
October 2015
May 2015
April 2015
March 2015
February 2015
January 2015
December 2014
November 2014
October 2014
March 2014
February 2014
January 2014
Previous Next