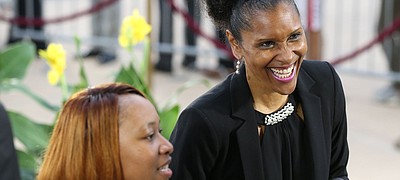 Already a member of the Naismith Memorial Basketball Hall of Fame and Women's Basketball Hall of Fame and carrying the distinction of being the first female inducted into the Kansas Athletics Hall of Fame, KU great Lynette Woodard added to her list of accomplishments as a pioneer of the game on Thursday night by being inducted into the KU Women's Hall of Fame as selected by the Emily Taylor Center for Women and Gender Equity.

Kansas women's basketball coach Brandon Schneider on Tuesday announced the addition of two junior college players, both from Brazil and both from Highland Community College, for the 2018-19 KU roster.
By J-W Staff Report
April 17, 2018 12:51 p.m.

With an opportunity to stay close to home, Lawrence High junior Chisom Ajekwu said it was an easy decision when she decided to verbally commit to play in the Kansas women's basketball program. By Bobby Nightengale
A familiar face is joining the KU staff, replacing an assistant who departed after 12 years at KU. By Scott Chasen
The Kansas women's basketball season ended Friday night in Oklahoma City with a 72-63 loss to Kansas State in the first round of the Big 12 tournament. K-State outscored KU 11-2 at the end of the game to score its third victory of the season and second in six days against its in-state rival.
By Staff Report
March 2, 2018 9:56 p.m.

The Kansas women's basketball team had a promising first half on Senior Night against Iowa State. But in the closing half, the shots rarely fell through the hoop.
February 27, 2018 10:50 p.m.
Allowing at least 20 points in each quarter, the Kansas women's basketball team was drubbed, 91-67, against Kansas State on Saturday at Bramlage Coliseum.
By Staff Report
February 24, 2018 9:43 p.m.

The timing of Kylee Kopatich's 3-pointer couldn't have been any better. Hoping to end a 12-game losing streak, Kansas found itself tied with No. 25 Oklahoma State with under three minutes to play at Allen Fieldhouse. By Wesley Dotson
February 21, 2018 10:02 p.m.

Baylor coach Kim Mulkey has often said she never tells a shooter to stop shooting when they go into a slump. That philosophy paid off Saturday.
By Associated Press
February 17, 2018 5:38 p.m.
The West Virginia women's basketball team easily handled Kansas, 76-46, with 1,880 in attendance at WVU Coliseum on Wednesday night.
By Staff Report
February 14, 2018 9:07 p.m.
After a cold shooting start, Kansas women's basketball coach Brandon Schneider saw his team fall into a hole he was hoping they could avoid. The Jayhawks were never able to dig themselves out of it.
February 11, 2018 midnight
Loryn Goodwin had 25 points, nine rebounds and six assists and Kaylee Jensen scored 23 points with nine boards to help Oklahoma State beat Kansas on Saturday night.

After missing out on a chance to upset a top-10 opponent, the frustration oozing out of Brandon Schneider was palpable. By Scott Chasen

Moments after the spotlight intensified on the blue canvas in the rafters of Allen Fieldhouse and the fans greeted her with a standing ovation, Adrian Mitchell, just the fourth KU women's basketball player ever to have her jersey retired, passed the credit right back. By Scott Chasen

As the 30-plus former Kansas players walked off Naismith Court, Marlene Mawson held her ground. By Scott Chasen
February 2018
January 2018
December 2017
November 2017
October 2017
July 2017
June 2017
March 2017
February 2017
January 2017
December 2016
November 2016
March 2016
February 2016
January 2016
Previous Next