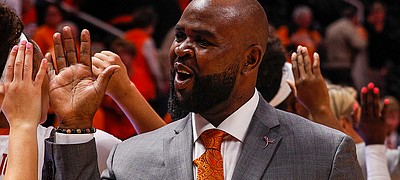 One of Kansas basketball's all-time favorite walk-ons is coming back to Lawrence. On Thursday night, KU women's coach Brandon Schneider announced that Terry Nooner would join the Kansas women's basketball coaching staff as an assistant coach. By Matt Tait

Southeastern Conference Commissioner Greg Sankey told a U.S. Senate committee Wednesday that there needs to be a uniform federal law to regulate the compensation of college athletes instead of a series of state-level versions with differing requirements.

The NCAA Division I Council this week approved a plan to allow college basketball players to start working with their coaches for the first time since the pandemic wiped out March Madness.

University of Kansas fans holding season tickets for upcoming KU sporting events now have assurances from the athletic department that their investment is safe. By Matt Tait

The Big 12 Conference men's and women's postseason basketball tournaments will be played in Kansas City, Mo., for at least the next five seasons, the conference announced late Friday.
By J-W Staff Report
June 13, 2020 6 a.m.

There's a new date to circle on the college athletics calendar for the 2020-21 academic year — Nov. 3, 2020. By Matt Tait

A new NCAA document gave universities and conferences across the country some more guidance Friday on how to prepare for the return of college athletics, advising them to create COVID-19 task forces and to formulate plans for what to do if an athlete gets sick. By Matt Tait

The Kansas women's basketball team will travel to Oxford, Miss., this season to take on Ole Miss in the SEC/Big 12 Challenge, the Big 12 Conference announced Thursday.

University of Kansas Athletic Director Jeff Long on Wednesday announced staffwide furloughs and pay cuts for all Kansas Athletics employees, including coaches, from June 1 through the end of 2020. By Matt Tait

The NCAA Division I Council voted Wednesday to lift a moratorium on voluntary workouts by football and basketball players effective June 1 as a growing number of college leaders expressed confidence that fall sports will be possible in some form despite concerns about the coronavirus pandemic.
By Steve Megargee, AP Sports Writer
May 20, 2020 7:21 p.m.

Kansas basketball coach Bill Self and some of the school's other coaches were back in their offices this week — albeit with a host of COVID-19-related precautions and new routines. By Matt Tait

The NCAA's recent show of support for compensation through endorsement deals for college athletes was a win for the athletes. But there are still so many questions to ask, loopholes to close and concerns to consider before this development can be called a success for college athletics. By Matt Tait

The NCAA is moving closer to allowing Division I athletes to earn money from endorsements and sponsorship deals they can strike on their own as early as next year.
By Ralph D. Russo, The Associated Press
April 23, 2020 3:15 p.m.

Kansas women's basketball coach Brandon Schneider is relying on an ever-present list of names to help him fill an unexpected opening on his coaching staff during the current health crisis. By Matt Tait

While colleges and universities across the country wrestle with the idea of cutting sports to save money in the midst of the COVID-19 crisis, University of Kansas Athletic Director Jeff Long said no such discussions had taken place in Lawrence. By Matt Tait
July 2020
June 2020
May 2020
December 2019
October 2019
January 2019
December 2018
September 2018
February 2018
January 2018
December 2017
November 2017
October 2017
July 2017
June 2017
March 2017
February 2017
January 2017
December 2016
November 2016
Previous Next