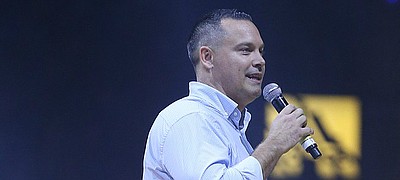 Kansas women's basketball coach Brandon Schneider had his work cut out for him last year when he took over one of the youngest rosters in all of women's basketball. But what made things even more difficult during the team's 6-25 season were Schneider's living arrangements. By Shane Jackson

After sitting out all of last season because of the NCAA transfer rule, Kansas women's basketball guards Jessica Washington and McKenzie Calvert were more than happy to step back on the court at Allen Fieldhouse on Saturday. By Bobby Nightengale
October 1, 2016 10:47 p.m.
Kansas women's basketball team had an all-around educational experience during its foreign tour from Aug. 8-18 in France and Switzerland. The Jayhawks posted a 4-0 record on the court, and did plenty of sight-seeing off of it.
August 27, 2016 10:32 p.m.

Both the Kansas volleyball and women's basketball programs would benefit from a new facility for their home games — a larger venue for volleyball and a smaller one for women's basketball. By Tom Keegan
The Kansas women's basketball team on Tuesday won its fourth and final game in Europe, a 113-27 victory over Nice Select in Nice, France.
By Staff Reports
August 17, 2016 midnight
Kansas' women's basketball team improved to 3-0 on its 2016 foreign tour with an 87-22 victory over Sion Select on Saturday in Switzerland.
The Kansas women's basketball team on Friday morning improved to 2-0 during its overseas exhibition tour with a 95-52 victory against AMW All-Stars at Le Stadium in Paris.
The Kansas women's basketball team earned a victory Thursday in its first of four games on a 10-day European tour.

The Kansas women's basketball squad will get a taste of international competition and culture over the next week and a half, with four exhibition games in France and Switzerland.
Hall of Famer Lynette Woodard wanted a new start in college coaching. Winthrop, with her old friend Kevin Cook, seemed like a perfect place.
Kansas University's matchup with Alabama on Dec. 4 is one of 10 games in the 2016 SEC/Big 12 Women's Basketball Challenge, which features every Big 12 program for the first time.
Kansas University's women's basketball team will play eight of its 11 regular-season nonconference games at home next season.
The second-annual Brandon Schneider Golf Tournament will take place on Saturday at Alvamar Golf and Country Club in Lawrence. All proceeds from the tournament support Kansas University women's basketball and the Lawrence Memorial Hospital Breast Center.

Kansas basketball coaches Bill Self and Brandon Schneider share their thoughts on legendary Tennessee women's basketball coach Pat Summitt, who passed away Tuesday morning at age 64 after a battle with early onset dementia. By Matt Tait
More than half of Kansas University's student-athletes posted a grade-point average of 3.0 or better during the spring semesters, lifting the cumulative GPA to a record 3.04, according to numbers released Wednesday.
March 2016
February 2016
January 2016
December 2015
November 2015
October 2015
May 2015
April 2015
March 2015
February 2015
January 2015
December 2014
Previous Next