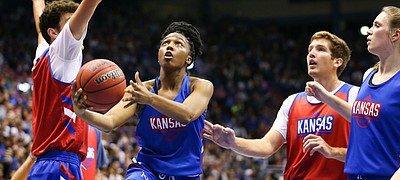 With losing nine players — including seven seniors — from the 2018-19 team, Kansas women's basketball has emphasized filling gaps this offseason.

World-famous rapper, producer and television personality Snoop Dogg will be the headlining performer at the University of Kansas' annual Late Night in the Phog.
By Staff Report
September 27, 2019 2:28 p.m.
The Big 12 released its 2019-20 conference schedule Wednesday morning.
Kansas will have 10 homes contests, including a pair of exhibition games, ahead of Big 12 play during Brandon Schneider's fifth season at the helm of the women's basketball program.
The Big 12 and Southeastern Conferences have announced the continuation of their women's basketball challenge into 2019. Kansas women's basketball will welcome Florida to Allen Fieldhouse on Sunday, Dec. 8 for its Big 12/SEC Challenge matchup.

Forty Kansas Athletics employees specializing in sports medicine are now reporting to actual doctors and medical professionals instead of KU administrators. By Matt Tait

Kansas women's basketball coach Brandon Schneider characterized a Wednesday morning meeting with first-year KU athletic director Jeff Long as having gone well and came away feeling like Long was in his corner. By Matt Tait

Seven University of Kansas teams achieved perfect 1,000 single-year Academic Progress Rate scores, and KU's women's cross country team picked up a Public Recognition Award for scoring in the top 10 percent of its sport over the course of multiple years the NCAA announced on Wednesday.

Kansas head women's basketball coach Brandon Schneider has added Larry Tidwell as associate head coach and Jhasmin Player as an assistant coach to his complete his staff on Monday.

The Big 12 Conference on Tuesday announced Learfield IMG College as its new comprehensive sponsorship rights holder.

The Kansas women's basketball team suffered a 75-58 loss to Iowa State to end its season Saturday night at Chesapeake Energy Arena.
The Kansas women's basketball team made enough plays down the stretch to secure its first win since Jan. 30.
By Staff report
March 8, 2019 10:31 p.m.
Kansas women's basketball seniors Kylee Kopatich and Christalah Lyons were named All-Big 12 Honorable Mention for their efforts during Big 12 Conference play this season, as announced by the league office Wednesday afternoon.

The once-promising, injury-riddled Kansas basketball career of Jessica Washington officially has come to a close.
Despite staying within single digits for 33 of the 40 minutes, the Kansas women's basketball team couldn't close out an upset over No. 19 Iowa State in a 69-49 loss Monday night at Hilton Coliseum.
By Staff report
March 4, 2019 9:35 p.m.
October 2019
January 2019
December 2018
September 2018
February 2018
January 2018
December 2017
November 2017
October 2017
July 2017
June 2017
March 2017
February 2017
January 2017
December 2016
November 2016
March 2016
February 2016
Previous Next