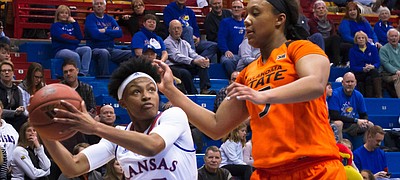 After Kansas earned its first Big 12 win over TCU earlier this season, the team doused coach Brandon Schneider with Gatorade as he entered the locker room. This time, as the Jayhawks picked up their second conference win, the coaches returned the favor.
Kansas' women's basketball team sprinted to an 11-point first-half lead but couldn't hold it in a 75-60 loss to Texas Tech on Saturday at United Supermarkets Arena in Lubbock, Texas.
The Kansas women's basketball team never found a rhythm offensively Saturday, shooting 21 percent from the floor in a 75-42 loss to 10th-ranked Texas at Frank Erwin Center.
Kansas women will face Oklahoma State at 7 p.m. tonight, at Allen Fieldhouse.

Junior guard Chayla Cheadle didn't even try to plead her case. She merely gave the official a puzzled look.
February 6, 2017 12:07 a.m.
Maddie Manning had 19 points, seven rebounds, four assists and two steals, Peyton Little scored 16, and No. 18 Oklahoma beat Kansas 89-52 on Wednesday for its eighth straight home win.

The University of Kansas women's basketball team will face the Oklahoma Sooners at 10:30 a.m. Wednesday.

Moments after the final buzzer, the Kansas bench erupted, and players on the court made a beeline to their bench to celebrate. Finally, for the first time this season, it was the Jayhawks celebrating a win in the Big 12 conference. By Evan Riggs
Junior guard Jessica Washington caught fire in the second half and fell just short of shooting the Kansas women's basketball team to its first Big 12 victory and Oklahoma State prevailed, 74-70, Wednesday night in Gallagher-Iba Arena in Stillwater.
TCU dominated the boards and had no trouble getting the ball inside in an 83-68 victory Sunday night in Schollmaier Arena to keep the Kansas women's basketball team winless in Big 12 play.
January 22, 2017 11:55 p.m.
A preview of the Kansas women's basketball team's game against Oklahoma on Thursday.
January 21, 2017 8:11 p.m.

Just days after a lopsided loss to the second best team in the country, the Kansas women's basketball team was tasked with yet another ranked opponent.
January 19, 2017 12:45 a.m.

Kansas women's basketball coach Brandon Schneider knew his team had to slow the game down and minimize possessions in order to keep up with No. 2 Baylor and its offensive firepower Sunday. By Evan Riggs

Kansas junior guard Jessica Washington poured in a career-high 31 points in her first taste of the Sunflower Showdown rivalry, but even that wasn't enough for the Jayhawks to put an end to their Big 12 losing streak Wednesday night at Kansas State.

Winless in the Big 12 heading into the game, Iowa State had no trouble dominating Kansas from the start Saturday on the way to an 87-58 women's basketball victory at Hilton Coliseum in Ames, Iowa.
By J-W Staff Report
January 9, 2017 12:31 a.m.
January 2017
December 2016
November 2016
March 2016
February 2016
January 2016
December 2015
November 2015
October 2015
May 2015
April 2015
March 2015
Previous Next