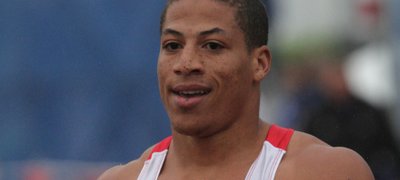 With a smile befitting The Joker lighting up his face, Olathe North High senior and Kansas University football signee Adonis Saunders cruised across the finish line in first place over the weekend at the Kansas Relays.
When he left the small west Texas town of Bushland to play football on scholarship for Oklahoma State, Andrew Hudson felt like the luckiest young man on earth.

Olympic bronze medalist/Kansas Relays fan favorite Bershawn "Batman" Jackson — who missed KU's spring carnival last year — returned in a blaze of glory Saturday.

There's only one thing Kansas University senior pole vaulter Jordan Scott must do to become a contender for the 2012 Olympics and beyond.

Fans stood two rows deep to the left and right of University of Nebraska senior Nicholas Gordon. They clapped rhythmically as the Jamaican track and field sensation took off down the makeshift long-jump runway Thursday night in downtown Lawrence.
Although much is made of the Kansas University athletic department turning into quite the money machine in recent years, a closer look reveals the truth: A generation doesn't go by where the department is Penny-less.

Feeling parched after winning the first-ever downtown edition of the Kansas Relays shot put, Dylan Armstrong realized there were plenty of establishments close by to quench his thirst.
Everything has to start someplace. Historians will note that the revival of track and field in the United States began Wednesday, April 20, 2011, right here in Lawrence, on Eighth Street, 80 feet or so east of New Hampshire.
Everybody has witnessed live events that take up permanent residence in the memory.

Elite shot-put field features turkey-loving, Cube-solving bear of a man
Enterprising downtown restaurant chefs might want to bake and baste some turkey legs today just in case Reese Hoffa — the world's No. 2-ranked shot putter — wins tonight's Kansas Relays competition.

First, allow me to guarantee sunny skies for this week's Kansas Relays, which start downtown Wednesday with the shot put, continue Thursday with the downtown long jump and play out at the track inside Memorial Stadium from Wednesday through Saturday.
The world's No. 2-ranked hurdler, Johnny Dutch, has committed to compete in the Kansas Relays. The Invitational 400-meter hurdles will feature the world's No. 1- and 2-ranked hurdlers, as Dutch will go up against five-time Kansas Relays winner and the world's top-ranked hurdler Bershawn "Batman" Jackson.
Soon, the air on Eighth Street between Mass and New Hampshire will be thick with testosterone. Loud music. Men ripping their shirts off and unleashing primal screams of passion.
After a one-year hiatus, Bershawn "Batman" Jackson will return to the 2011 Kansas Relays. A relays regular, Jackson is a five-time winner in the 400-meter hurdles and holds the current record.
April 2011