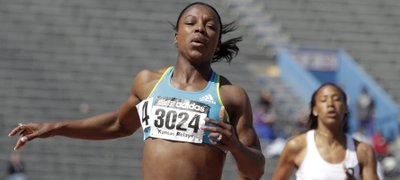 Campbell-Brown takes spotlight in final day
Jamaican track sensation Veronica Campbell-Brown waved, bowed, then blew a kiss to the fans after storming to a resounding victory in the 200 meters on Saturday at Memorial Stadium.
Northern Iowa assistant track coach Jacob Pauli decided against driving a university van from Cedar Falls to Lawrence for the 2010 Kansas Relays.

Former University of Nebraska competitor Skyler Reising and Lincoln College senior Anna Kay Campbell grabbed the first-day lead in the Kansas Relays decathlon and heptathlon Wednesday at Memorial Stadium.
The 2010 Kansas Relays officially begins today with first-day heptathlon and decathlon events, to run from 10 a.m. until 4:30 p.m. at Memorial Stadium.
April 2010