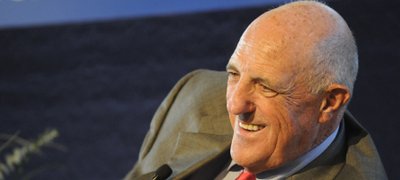 KU

's athletic director abruptly retires

The buzzer has sounded on Lew Perkins' tenure as Kansas Athletics director. Perkins on Tuesday abruptly retired his post — effective immediately — accelerating his previously announced retirement by a full year.

One of the most popular events of the summer golf season is the scramble. Four guys get together for a few laughs, a couple of beverages and a fun round. It's the perfect set-up for any golfer, from awful to average, and it allows for players of all skill levels to compete on an even playing field. Such a setting is the scene for the fourth installment of our summer series, which looks back at some of the biggest and best names to come through KU.
By Staff Reports
July 10, 2012 12:09 a.m.
New Kansas University Athletic Director Sheahon Zenger may be limited in his ability to make certain coaching changes in the coming years because of contracts signed by former KU Athletic Director Lew Perkins.
Seabury Academy girls basketball coach and personal trainer Becky Bridson loves to talk about basketball with one of her clients: former Kansas University athletic director Lew Perkins.
Former Kansas University athletic director Lew Perkins will be an assistant girls basketball coach at Seabury Academy next season, the Journal-World has learned.
His attorney, Todd Thompson, released a statement from Perkins. "As the consent decree states, I never acted with any intent to violate any laws or ethical rules," Perkins said.
January 25, 2011 2:17 p.m.

The state ethics commission on Tuesday will consider a complaint against former Kansas University Athletic Director Lew Perkins that alleges he violated a ban on gifts to state officials by accepting free exercise equipment and physical therapy sessions.
January 24, 2011 2:29 p.m.
The head of a committee looking for a new Kansas University athletic director says no finalists for the job have been found yet.
A complaint before the Kansas Governmental Ethics Commission alleges that he violated the law by accepting free exercise equipment and physical therapy sessions.
November 4, 2010 9:10 a.m.
Former Kansas University Athletics Director Lew Perkins faces an ethics complaint for allegedly violating a law that bans gifts to state officials by accepting free exercise equipment and physical therapy sessions.
October 19, 2010 2:33 p.m.
Members of a six-member search committee are on the lookout for candidates to become Kansas University's next athletics director.
Acknowledging the public relations nightmare created by the ticket-scalping scandal at Kansas University, Chancellor Bernadette Gray-Little on Thursday said the school is increasing control of the ticket system, transparency of seating allocations, and oversight of the athletic department.
September 16, 2010 8:01 a.m.
Kansas University's chancellor will be looking for a new athletics director with experience, integrity and a style that relates well to people.

Money, the very thing that enabled Lew Perkins to gain such unfettered power during his reign as athletic director of Kansas University, raised its voice, screamed "Enough is enough," and brought about the end of his reign.

Bill Self made it perfectly clear Tuesday that he's not a candidate to replace Lew Perkins as athletic director at Kansas University.
January 2011
September 2010
August 2010
July 2010
June 2010
Previous Next