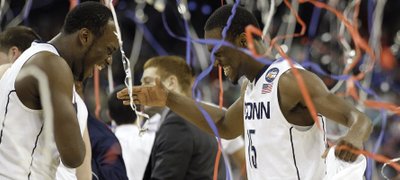 The only thing that could stop Kemba Walker and Connecticut's amazing run was the final buzzer. On a night when the massive arena felt like a dusty old gym, UConn made Butler look like the underdog it really was, winning the national championship Monday night with an old-fashioned, grinding 53-41 beatdown of the Bulldogs.
For a college basketball fan, Selection Sunday is Christmas Eve. The Thursday and Friday of the first week of the NCAA Tournament are (usually) the two best basketball game days of each year.

It took him less than three minutes to make all his picks, but in the end, Scott Bowers is happy that he stuck with his instinct to have UConn advance all the way in his KUSports.com bracket.
The Kansas men's basketball team placed fourth in the final ESPN/USA Today coaches poll released Monday.
Butler hits record-low 18.8 percent
Butler couldn't go inside. It couldn't score outside. Its shots were blocked all night long.
Shaka Smart could have cashed in at North Carolina State. Chris Mooney could have bolted to Georgia Tech. Instead, these in-demand basketball coaches agreed to contract extensions with their current schools, Smart at VCU, Mooney the University of Richmond.
VCU coach Shaka Smart is staying with the Rams after leading them on a surprising Final Four run.

College basketball's biggest party was once an exclusive affair, such a stretch for small schools there might as well have been "No Mid-Majors Allowed" signs plastered on the locker room doors at the Final Four.
Richmond and Cleveland State were the 1980s pioneers, charming and obscure underdogs who crashed the NCAA Tournament's Sweet 16.
Butler coach Brad Stevens loves an underdog, whether it's his team back in the Final Four or Connecticut making an unprecedented five-games-in-five-nights run through the Big East tournament. Wait, what?

When it's win or go home, nobody's better than Kemba and the kids.

The lovable underdog label is long gone. Now Butler is determined to drop that "first loser" tag, too.
Connecticut freshman guard Jeremy Lamb recently was struck with this thought: "Man, I can't believe we're in the Final Four."

Before the college basketball world started screaming about Virginia Commonwealth, back when ESPN pundits still considered VCU a four-letter word, Shaka Smart spoke softly to the man who helped give him a strong voice.

Our time. Right now. That is the rallying cry Virginia Commonwealth University has adopted during its basketball team's improbable nothing-to-lose, everything-to-gain run to the Final Four.
March 2011
Previous Next