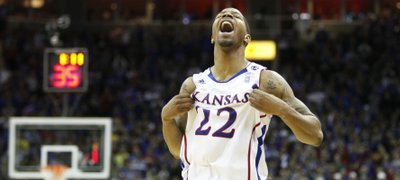 Bill Self watched with pride as his Kansas University basketball players, the ones wearing blue Big 12 championship T-shirts and gray caps, climbed atop a ladder and snipped the nets on Saturday night in Sprint Center.
Kansas University basketball coach/psychologist for young male adults Bill Self has had one of the quickest guards in America on his team the past three years, so quick, in fact, that it seems at times about the only one who can get in front of him to stop him from getting where he wants to go is Tyshawn Taylor himself.
Fans in Sprint Center chanted "One More Year" as the Morris twins clipped the nets after Saturday's Big 12 tournament title win over Texas.
Texas forward Gary Johnson didn't have any problems with how Kansas University's players handled themselves before and during the Jayhawks' 85-73 victory Saturday.
Forget the style points, throw the scorecards they use at the NBA's slam dunk contest away. Saturday's dunk by Kansas University senior Tyrel Reed during KU's 85-73 victory over Texas in the Big 12 tournament title game earned high marks from the rest of the Jayhawks for one reason and one reason alone.

On a night Kansas University, the nation's second-ranked basketball team, defeated Colorado, 90-83, Friday in the Sprint Center and ran its record to 31-2 and its two-year mark to 64-5, it rode its preferred inside-out approach to scoring.
Kansas University's basketball players were in a bit of a daze the last time the Jayhawks played Texas.

After combining for 52 points Thursday against Kansas State, Colorado guards Cory Higgins and Alec Burks mustered just 29 points on 10-for-29 shooting in Friday's 90-83 loss to Kansas.
Kansas sophomore forward Thomas Robinson, who reportedly said on ustream.com Thursday night that he is definitely returning to KU for his junior season, confirmed that is indeed the case.

Jordan Hamilton scored 17 points and No. 10 Texas had four players in double figures while beating Texas A&M 70-58 in the Big 12 semifinals Friday night, giving the Longhorns a three-game season sweep of their old rivals.

Going on the assumption that Kansas University junior Marcus Morris is more of a small forward, KU sophomore Thomas Robinson was pretty comfortable with his comments about his other teammate named Morris: power forward Markieff.

Kansas University's No. 2-ranked basketball team confronted a harsh reality while huddling during a timeout with 20 seconds left in Thursday's Big 12 tournament quarterfinal nail-biter against Oklahoma State in Sprint Center.
Shortly before opening tip of Thursday's Big 12 quarterfinal against Oklahoma State, Kansas University junior forward Marcus Morris received his Big 12 Player of the Year hardware and an ovation from the Sprint Center crowd. It didn't take him long to show the many reasons nobody else came close to deserving it.

Truth be known, Kansas University's basketball players wanted to play Kansas State in the 2011 Big 12 tournament.
KU had trouble working the ball inside against Okie State's zone defense. Marcus Morris had 16 points off 7-of-15 shooting but just four points off 1-of-4 shooting the second half. Markieff Morris had 10 points off 3-of-5 shooting and Thomas Robinson one point. He missed all five floor shots.
March 2011
Previous Next