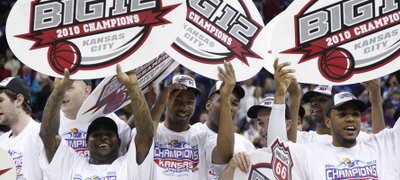 Cole Aldrich hoisted the Big 12 championship trophy high in the sky for fans to see, then cradled it lovingly while speaking to reporters Saturday night on a confetti-infested Sprint Center floor.
Denis Clemente, Kansas State's senior guard, showed Saturday why he's considered the fastest player in college basketball. He and teammates also showed a remarkable will to win.

Jacob Pullen left the court quickly following Kansas State's 72-64 loss Saturday to Kansas University. He couldn't stand to see what was going on around him.

News, notes, numbers and quotes from KU's victory against Kansas State.

KU fan Craig Bastemeyer has been waiting for this for the last 25 years.
Thomas Morefield and Maren Roesler are not typical Jayhawk and Wildcat basketball fans.

Marcus Morris scored 18 points, while Tyrel Reed added 15 as the Jayhawks defeated the Wildcats for the third time this season. Collins was named the tournament MVP.
Darin Fyffe and Matt Koster have known one another for 10 years.

Rodney Stephenson is one of the reasons Kansas University won against Texas A&M University on Friday evening. At least he thinks so.

Bill Self didn't plan to pop open a bottle of champagne late Friday night at team headquarters, the Downtown Marriott Hotel.
We'll find out how smart a basketball team Kansas State is tonight in the Big 12 tournament finals in Sprint Center.

A&M not dwelling on dustups
With tempers flaring in the second half, Texas A&M's Donald Sloan said he and Kansas University's Sherron Collins shared a brief conversation on the court.

Kansas University today tries for its seventh Big 12 tournament title in the 14-year history of the event. KU is 6-1 in the title game.

Wildcats, Jayhawks set to square off for Big 12 title
Dominique Sutton had a double-double and a key offense rebound that led to Jacob Pullen's 3-pointer with 2:02 left, helping No. 9 Kansas State survive for an 82-75 win over No. 21 Baylor on Friday night in the Big 12 tournament semifinals.

The Jayhawks used a 16-0 second-half run to pull away, advancing to Saturday's Big 12 championship game.
Previous Next