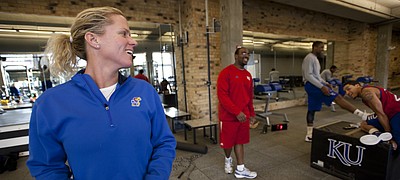 After 15 years at a place that, "means the world" to her, Kansas basketball strength and conditioning coach Andrea Hudy is officially leaving KU. By Matt Tait

Few moments are more valuable to the Kansas basketball program than the early days of summer when returning sophomores offer help to incoming freshman trying to figure things out for the first time. By Matt Tait

The process to replace two longtime Kansas Athletics sports performance employees is underway and KU Athletic Director Jeff Long hopes to have at least one hire made in the next two weeks. By Matt Tait

Longtime Kansas basketball strength and conditioning coach Andrea Hudy is leaving KU for a job at Texas, both Hudy and Kansas coach Bill Self confirmed to the Journal-World late Thursday night. By Matt Tait

When Kansas center Udoka Azubuike and forward Silvio De Sousa elected to return to KU for the 2019-20 season, the move did much more than solidify the Jayhawks' front court. It also added some much-needed experience to the Kansas roster. By Matt Tait

According to his roommate, Christian Braun, KU junior Silvio De Sousa has spent more time in the gym this summer than in their room. And while that setting has provided the 6-foot-9 forward from Angola with the perfect place to work on his game and release his endless amount of excited energy from regaining his eligibility, it also has been a good vantage point for De Sousa to see Braun in action. By Matt Tait

It was a trip down memory lane for former Kansas standout Thomas Robinson. Shane Jackson

One of the top basketball prospects in the country plans on joining the college ranks a year sooner than originally expected.

Former Kansas walk-on and Free State standout Garrett Luinstra has found his new home.
By Staff report
August 3, 2019 6:18 p.m.
The family of Max Falkenstien, in conjunction with Kansas Athletics, will host a celebration of life for the late KU broadcaster at 2 p.m. on Aug. 24 at the Lied Center on KU's west campus. By Matt Tait

Thursday, Aug. 1, 2019, marked the completion of Jeff Long's first full year as the Athletic Director at the University of Kansas. Just prior to the anniversary's arrival, Long sat down with the Journal-World to look back at the year that was and what's ahead for Kansas Athletics. By Matt Tait

Max Falkenstien, whose enthusiastic voice was a key part of the soundtrack of Kansas basketball and KU football for decades, died Monday afternoon. He was 95. By Matt Tait

Before the second session even began, Niko Roberts was thinking of improvements. Roberts, who was a member of the Kansas men's basketball team between 2010-14, held an administrative role at the first-ever NCAA-sponsored College Basketball Academy.
Self Made was forced to face reality within the first minute of this year's TBT tournament. Despite being a No. 3 seed, and the ninth-ranked squad in the entire field, the Kansas alumni team never led in an eventual 87-63 loss to sixth-seeded Sideline Cancer during the opening round of the TBT tournament Thursday night at Wichita State's Koch Arena. It was an abrupt ending during Self Made's first year in the event.

It won't be a battle of blue bloods after all. Pairings for the 2020 Big 12/SEC Challenge were announced Thursday morning, and the Kansas men's basketball team will play host to Tennessee this season in the seventh annual event
August 2019
July 2019
Previous Next