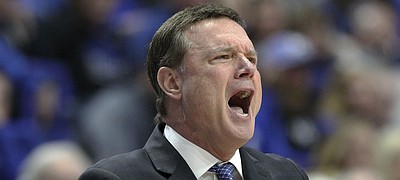 With just 6 games to play in the Big 12 regular season, — 7 for Kansas State — the Kansas men's basketball team sits a game and a half behind the team that KU coach Bill Self says is in the "driver's seat" to win this year's league crown. By Matt Tait

A look at some of the keys for 14th-ranked Kansas in today's rematch with West Virginia at Allen Fieldhouse. By Matt Tait

The three men who were convicted of fraud for their schemes in a college basketball recruiting scandal — which included the University of Kansas program — recently asked a judge to sentence them to probation rather than jail, according to documents filed in the U.S. District Court Southern District of New York.
By Dylan Lysen
February 14, 2019 11:14 a.m.

Mere hours after turning in what Kansas coach Bill Self said "may have been his best game," freshman point guard Devon Dotson was named the national freshman of the week by CBS Sports and the U.S. Basketball Writers Association. By Matt Tait

The circumstances had to present themselves just right for Kansas sophomore K.J. Lawson to be in the position to hit two of the game's biggest shots during KU's recent road win over TCU. But once they did, there was not a player on the Kansas roster who questioned whether the sophomore wing would come through. By Matt Tait

Fort Worth, Texas — Freshman guard Ochai Agbaji was out of breath when he took his seat for the postgame meeting with the media following 14th-ranked Kansas' 82-77, overtime victory at TCU on Monday night. And, sure, dropping 20 points and grabbing 11 rebounds in 41 minutes probably had something to do with it. By Matt Tait

Fort Worth, Texas — Vernon Turner remembers, four or five years ago, when KU sophomore Marcus Garrett, then a freshman at Skyline High in Dallas, would warm up with the Skyline freshman team and scare the dickens out of the opponent on just about every occasion.

Fort Worth, Texas — Very little has come easy for the 14th-ranked Kansas basketball team since Big 12 Conference play began back in early January. And that theme continued Monday night at Schollmaier Arena, where the Jayhawks and TCU Horned Frogs needed overtime to settle KU's latest road challenge, an 82-77 win by Kansas on a wild night for both teams.

Fort Worth, Texas — Ever since it became clear that winning away games could no longer be considered the foregone luxury that it typically is for Bill Self-coached teams at Kansas, the Jayhawks have searched for one of their role players to drag them out of their road stupor by becoming more of a leading man.

A look at some of the keys for Kansas in tonight's Big Monday, road clash with TCU in Fort Worth, Texas. By Matt Tait

Ochai Agbaji wasn't supposed to play this season. The Kansas basketball team, it appeared, didn't need the freshman guard from Kansas City, Mo. Sure, KU's coaches loved his longterm potential. But Agbaji could take a redshirt year and the Jayhawks would be just fine without him, what with their McDonald's All-Americans and returning players with Final Four experience. By Benton Smith

Midway through the first half of Saturday's 84-72 victory over Oklahoma State, the NCAA Tournament Selection Committee was busy revealing its early glance at where things stand today, with Selection Sunday now 5 weeks away. Entering Saturday, the 13th-ranked Jayhawks, according to the committee, were a 3 seed, on the same line as Purdue, Houston and Marquette. By Matt Tait

Allen Fieldhouse is loud. Mitch Lightfoot is louder. And with both his play and an audible Rick Flair-esque scream that somehow could be heard over the roar of the Allen Fieldhouse crowd as he walked to the bench for a timeout midway through Saturday's second half, Lightfoot helped lead No. 13 Kansas to another much-needed 84-72 victory over Oklahoma State. By Matt Tait

With a depleted roster, No. 13 Kansas took care of business when it returned to Allen Fieldhouse. Following a loss to its in-state rival, KU got back on track in a big way with a 84-72 win over Oklahoma State Saturday afternoon. The Jayhawks, who were without starters Marcus Garrett (injury) and Lagerald Vick (leave of absence), led by double digits for the final 10-plus minutes of the contest.
February 9, 2019 12:59 p.m.

A look at some of the keys for 13th-ranked Kansas in today's Big 12 battle with Oklahoma State at Allen Fieldhouse. The last time these two hooked up on KU's home court, the Cowboys walked away with an upset victory. By Matt Tait
February 2019
January 2019
Previous Next