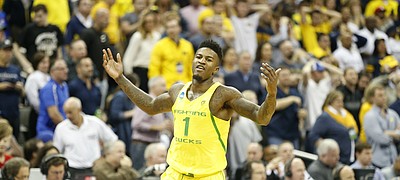 It will take more than the rain that fell on Lawrence on Sunday night to wash away the melancholy hovering since the Kansas basketball team's 74-60, Saturday night loss to Oregon at Sprint Center.

The sun did, in fact, come up in Lawrence, Kansas, on Sunday morning, but its arrival was not the signaling of the beginning of Final Four preparations for the Kansas men's basketball team. By Matt Tait

Entering Saturday's Elite Eight game against Kansas at Sprint Center, the Jayhawks' home away from home, Oregon basketball players were happy to play the role of the underdog. By Bobby Nightengale
March 26, 2017 12:38 a.m.

Saturday's 74-60, Elite Eight loss to Oregon at Sprint Center left a handful of Jayhawks to face questions about their futures. By Matt Tait

Almost as a forewarning of how he planned to dominate the paint Saturday night at Sprint Center, 6-foot-9 Oregon forward Jordan Bell denied a Josh Jackson layup and snagged an offensive rebound within the first minute of the Midwest Regional Final, against top-seeded Kansas. The junior's energetic approach on both ends of the floor injected his upset-minded Ducks with the kind of punch it would take to knock the Jayhawks out of the NCAA Tournament. By Benton Smith

A man wearing a blue shirt that covered his black heart took the opportunity late during the quiet of a 74-60 Oregon victory to lean over the wall that separates the first row of seats from press row and unloaded with words that Devonte' Graham never should have had to hear after the season he had, and the tremendous three games he played to help Kansas get to the brink of the Final Four. By Tom Keegan

After steam-rolling their way through the first three games of this year's NCAA Tournament at a record pace, top-seeded Kansas ran into a team equally as willing to run and just as confident Saturday night at Sprint Center. By Matt Tait
Masters of the comeback during the regular season, the top-seeded Kansas Jayhawks couldn't dig themselves out of their first massive hole of the NCAA Tournament Saturday night at Sprint Center. The Pac-12 champion Oregon Ducks scored with ease for stretches, led by as many as 18 points in the second half and ended KU's season one game away from the Final Four, with a 74-60 victory by the No. 3 seed in front of an angry, hostile, pro-Kansas crowd. By Benton Smith

By the end of Saturday night at Sprint Center, one team Richard Lucas loves will advance to the Final Four. And the other's season will be over. The proud father of KU's Landen Lucas said Friday he's certain the scene will feel a bit bizarre just before tip-off. It wasn't all that long ago that his son wore Oregon colors just about every day and openly cheered for his dad's alma mater. By Benton Smith

Saturday morning, when the Oregon Ducks go through their final walk-through for a 7:49 p.m., Elite Eight showdown with top-seeded Kansas at Sprint Center, the players on their scout team will look and act a lot different than the players they'll face at game time. By Matt Tait

A look at some of the keys for top-seeded Kansas in Saturday's Midwest Regional championship game against No. 3 seed Oregon at Sprint Center. By Matt Tait

It was more of a fireside chat than an interrogation, but it carried with it one of the most important messages the Kansas men's basketball team heard all season. By Matt Tait

At the beginning of the season, Kansas basketball players weren't sure how much time they'd spend on the court in a four-guard lineup. Now the small-ball lineup is one of the reasons the Jayhawks are thriving in the NCAA Tournament. By Bobby Nightengale

The top-seeded Kansas Jayhawks won't be the only team on the floor tonight at Sprint Center with memories of coming up short on the Elite Eight stage one year ago driving them to achieve something greater this time around. Third-seeded Oregon, too, finished just one victory short of the Final Four twelve months back. By Benton Smith

The way Frank Mason III, then a freshman, answered my question about whether he thought he would before his Kansas career ended duplicate his 50-point game in a high school summer All-Star game in Richmond, Va., was when I first realized this was an athlete armed with boundless confidence. By Tom Keegan
March 2017
Previous Next