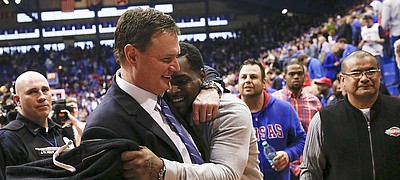 During his freshman season at Kansas, Sherron Collins tried a lot of things at full speed and sometimes the game he saw in front of him seemed in his mind to be going even faster than he was.

A look at some of the keys for 8th-ranked Kansas in tonight's Big Monday rematch with the Oklahoma Sooners at Allen Fieldhouse. By Matt Tait

With his wife, Britt, by his side, and his dad, Walt, and brother, Grant, there to support him, as well — dad decked out in a No. 45 Kansas basketball T-Shirt, no less — former Kansas big man Cole Aldrich returned to Allen Fieldhouse on Saturday for the moment of a lifetime. By Matt Tait

West Virginia basketball coach Bob Huggins cooled down almost as quickly as he flipped his lid in a way that earned him back-to-back technical fouls and an ejection with eight seconds remaining in Saturday night's game in Allen Fieldhouse. By Tom Keegan

After Kansas sophomore Udoka Azubuike dropped 21 points in 31 minutes to help lead the Jayhawks to a wild, 77-69, comeback victory over West Virginia on Saturday evening at Allen Fieldhouse, one of the most popular questions tossed KU's way was whether the game was the best of Azubuike's still-young career. As is so often the case, KU coach Bill Self delivered the best answer, tying in Saturday's celebration of the 10-year anniversary of the 2008 national title team to emphasize his point. By Matt Tait

For the eighth time this season, the Kansas basketball team found itself in a double-digit deficit. Saturday night at Allen Fieldhouse, the Jayhawks rediscovered the Morgantown magic that helped them pull off a major comeback in their first meeting with West Virginia. Although six other KU opponents have sent the perennial Big 12 champion home with a loss after leading by 10, WVU failed to do so again in an incredible 77-69 Kansas victory. By Benton Smith

A look at some of the keys for 13th-ranked Kansas in tonight's rematch with 20th-ranked West Virginia at Allen Fieldhouse in front of ESPN's "College GameDay" crew. By Matt Tait

Part attorney, part NCAA watchdog, part basketball analyst, ESPN's Jay Bilas is one of the better thinkers in our ever-expanding sports world.

An unnamed source who has been briefed on the details of an FBI probe into corruption in college basketball told Yahoo Sports that far more than four assistant coaches arrested in September have cause for concern. By Matt Tait

If Kansas basketball coach Bill Self trusted another player enough to put the basketball and game in his hands, Devonte' Graham wouldn't have a streak of nine consecutive 40-minute outings.

Forever linked for their time together as Jayhawks, former KU greats Sherron Collins and Cole Aldrich will share the spotlight one more time when their jerseys are retired, two days apart, at Allen Fieldhouse this weekend.By Matt Tait

The old rules no longer apply in Big 12 basketball. Not long ago, you could look at the rest of a team's schedule and come pretty close to projecting the wins and losses.

Kansas senior Devonte' Graham needed just three words to describe the improved effort and extra energy that sophomore guard Malik Newman played with during the Jayhawks' 83-77 road victory at Iowa State on Tuesday night. By Matt Tait

Iowa State's Solomon Young went up for a short baseline jumper, and Kansas center Udoka Azubuike went up with him and made contact. The whistle blew, and 21 seconds into the second half, Azubuike picked up his third foul. He stole a glance toward the bench, figuring he would see Mitch Lightfoot being summoned to replace him. Lightfoot remained seated. "I thought (Kansas coach Bill Self) was going to take me out, to be honest with you, but he kept me in the game," Azubuike said afterward. By Tom Keegan
The first time Iowa State faced Kansas this season, they put 6-foot-9 freshman power forward Cameron Lard on 6-foot-3 shooting guard Malik Newman and dared the Kansas sophomore to beat them. Newman did, scoring 27 points on that early January afternoon to lead Kansas to a five-point victory. Tuesday night at Hilton Coliseum, the stage was set for a similar matchup, and this time Iowa State coach Steve Prohm elected to put Lard on KU's slumping junior Lagerald Vick instead of Newman. By Matt Tait
February 2018
Previous Next