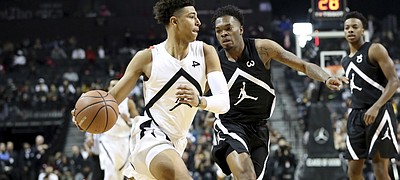 New to representing USA on an international stage, University of Kansas freshman Quentin Grimes took some time to feel out his surroundings this past week at the FIBA Americas U18 Championship. Although Grimes entered the event in a unique position, playing for his college coach, Bill Self, the 6-foot-4 guard didn't interpret his situation as a green light to assume a starring role on a roster full of talent. By Benton Smith

When Elijah Johnson began contemplating his summer plans while playing in Israel this past season for Galil Gilboa, the former University of Kansas guard thought he wanted to include some form of a youth basketball camp in his off-season calendar. Johnson also recognized if he were to add one such experience to his agenda, upon returning to the area where he played college basketball, he wanted to give it an uncommon spin. By Benton Smith

Now that Kansas basketball coach Bill Self has finished leading Team USA to a gold medal at the U18 FIBA Americas tournament, Self can turn his attention back to the Jayhawks and preparation for a fast-approaching 2018-19 season. By Matt Tait

Jayhawks' Grimes named MVP
USA Basketball defied a quick start from host team Canada well enough Saturday night in the FIBA Americas U18 Championship gold medal game. But when coach Bill Self needed his group of U.S. players to totally take control, University of Kansas freshman guard Quentin Grimes did his part to make it happen in the second quarter. By Benton Smith

Moments before the first pitch was even thrown, Frank Mason was hopeful that his charity softball game could become an annual event. Mason, who played for the University of Kansas between 2013-17, will forever be attached to the area. And that is why the first charity event he coordinated — since getting drafted by the Sacramento Kings in 2017 — was held at a place close to Lawrence.

USA Basketball's U18 team faced its toughest competition to date at the FIBA Americas Championship Friday evening, but with University of Kansas freshman Quentin Grimes leading the way, head coach Bill Self's group of U.S. players knocked off Argentina, 104-92, in the tournament semifinals. By Benton Smith

Between bouncing from airports to gymnasiums and back again, all in the name of proving himself worthy of some NBA team's draft pick, Devonte' Graham's travels over the past several weeks occasionally have brought him back to Lawrence, where he made a name for himself on the college basketball landscape as a point guard at the University of Kansas. It was during one such brief swing through KU's campus that Graham really felt like a former college player and a college graduate. By Benton Smith

It wasn't quite on par with the complete demolition job USA Basketball pulled off to flatten Panama earlier in the week, but the US opened tournament play at the FIBA Americas U18 Championship Thursday night in similarly devastating fashion. By Benton Smith

With one of the biggest days in his basketball existence coming up next week, no one would have blamed Devonte' Graham if the aspiring NBA point guard had spent this week focusing on his future. However, when asked to participate in the 10th annual Rock Chalk Roundball Classic, a charity fundraiser for families with children who are battling cancer, the recent University of Kansas graduate and busy pro prospect saw no reason to decline. By Benton Smith

That time of year arrived again again Thursday night, that time when Ben McLemore dominates the Rock Chalk Roundball Classic and leaves everyone in the packed gymnasium at Free State High wondering the same thing to themselves as they either line up for autographs or head outside for fresh air.

After back-to-back years of playing an All-American at point guard, the position will look distinctly different this coming season at the University of Kansas. No Frank Mason III. No Devonte' Graham. No upperclassman in waiting. By Benton Smith

For freshmen, one of the more enjoyable aspects of the first days as Kansas basketball players involves playing with and against NBA athletes that they in the past they had seen only on television.

Over the course of the past several years, Wayne Selden has played in enough Kansas basketball summer camp scrimmages that they all basically blend together in his mind. The former KU guard, now with the Memphis Grizzlies, finally experienced one that took on a different feel Wednesday afternoon inside Horejsi Family Athletics Center. By Benton Smith

One of the biggest Kansas basketball celebration weekends of the year is set to tip off Thursday night, when Brian Hanni's 10th annual Rock Chalk Roundball Classic charity basketball game gets going at 7 p.m. at Free State High. By Matt Tait

University of Kansas freshman Quentin Grimes supplied his most productive outing to date at the FIBA Americas U18 Championship Tuesday night, helping USA Basketball seal up first place in Group A, with a victory over Puerto Rico. By Benton Smith
June 2018
May 2018
Previous Next