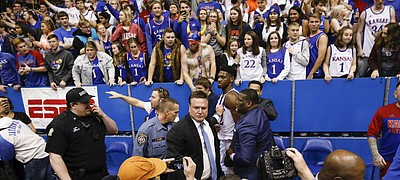 After a day's worth of reviewing footage and contemplating, the Big 12 announced Wednesday evening suspensions for four players involved in the brawl that marred Tuesday's Sunflower Showdown between Kansas and Kansas State. KU junior Silvio De Sousa, the backup forward at the center of the ruckus, received the most severe punishment, as the conference suspended him for 12 games. By Benton Smith

With David McCormack out of the starting lineup for at least the next two games to serve a suspension for his role in Tuesday's brawl with Kansas State, KU coach Bill Self has a decision to make about his fifth starter. By Matt Tait

Given the ugly fashion in which the Sunflower Showdown ended earlier this week, Kansas basketball coach Bill Self didn't spend much time in the hours that followed a rivalry game brawl thinking or talking about the actual 40 minutes of basketball that took place inside Allen Fieldhouse on Tuesday night.

After Tuesday night's basketball brawl, the University of Kansas student body president expressed concern over the pattern of "violence" surrounding the program and the Board of Regents chair suggested he would be discussing the matter with university CEOs.
By Lauren Fox
January 22, 2020 10:27 p.m.

The Wednesday suspensions of Kansas basketball forwards Silvio De Sousa (12 games) and David McCormack (2 games) will have a significant impact on the KU lineup in the week ahead. By Matt Tait

Kansas forward Silvio De Sousa has been suspended from the team indefinitely for his role in Tuesday night's fight between the Kansas and Kansas State men's basketball programs. By Matt Tait
January 22, 2020 12:05 p.m.

Roughly 14 hours after players from the Kansas and Kansas State basketball teams brawled in the south end of Allen Fieldhouse, KU coach Bill Self did not yet have an update Wednesday morning on the coming "consequences" that will be doled out in the wake of the confrontation.

An otherwise uneventful Sunflower Showdown spiraled into chaos in the final seconds Tuesday night at Allen Fieldhouse, as a fracas surrounding Kansas big man Silvio De Sousa spilled into the courtside seats. By Benton Smith

Tuesday night, during 31 minutes of third-ranked Kansas' 81-60 victory over Kansas State at Allen Fieldhouse, starting guard Ochai Agbaji provided KU coach Bill Self with something for which he had been searching.

An outstanding offensive night for the third-ranked Kansas basketball team ended with an ugly fight inside Allen Fieldhouse following the Jayhawks' 81-60 win over Kansas State on Tuesday night.

No. 3 Kansas claimed the first installment of the Sunflower Showdown. And it wasn't particularly close.

Follow along during the game with our crew and the KUsports.com community.

A look at some of the keys for third-ranked Kansas in tonight's clash with Sunflower State rival Kansas State at Allen Fieldhouse. By Matt Tait
Points have been tough to come by in the Big 12 Conference this season, and, after back-to-back games of 66 points, Kansas coach Bill Self is in search of a way to change that. By Matt Tait

Austin, Texas — Ugly is in the eye of the beholder. As far as Kansas basketball coach Bill Self was concerned, what he gazed upon Saturday at Frank Erwin Center was magnificent in all its grime.
January 2020
Previous Next