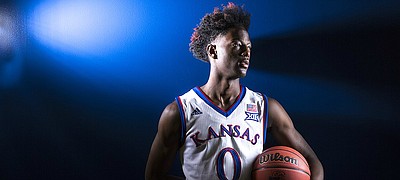 Monday was a feet-shuffling, legs-turning, lungs-working-overtime kind of morning for the members of the Kansas basketball program, who kicked off another year of Bill Self boot camp at 6 a.m., at the Jayhawks' practice gym. By Matt Tait

Nearing the end of his second month on the job, University of Kansas athletic director Jeff Long on Tuesday announced his second major hire. And it came from a familiar place.
By J-W Staff Report
September 25, 2018 11 a.m.
Kansas basketball officials announced late Monday afternoon that the Jayhawks' upcoming session with The Program, slated for Wednesday and Thursday in Lawrence, had been postponed. By Matt Tait

Mike Lee, third-year starter for the Kansas football team, and basketball player Marcus Garrett both are skilled at intercepting passes and that's not all they have in common. They both also happen to be big fans of Mike Lee.

Christian Braun's opportunity to make a name for himself as a Kansas basketball player may still be a ways out. But, according to KUsports.com recruiting insider Matt Scott, the latest KU commitment is well on his way to following in the footsteps of a former KU star who later wrote a book about the way he played. By Matt Tait

It's boot camp time for the Kansas basketball program, the two-week conditioning grind that serves as a way to test and shape the minds of the Jayhawks as much as their bodies. By Matt Tait

It's been a year since Kansas basketball coach Bill Self stood on a brightly lit stage in Springfield, Mass., and saw his informal title instantly transform from elite college coach and national champion to Hall of Famer. But in the 12 months since that special night, when Self celebrated with nearly 150 family, friends and former players, not much has changed for the Bill Self the basketball coach. By Matt Tait

With dates for marquee games against Michigan State, Villanova and Kentucky already known, the Kansas basketball program officially learned what its road to a 15th consecutive Big 12 title would look like on Wednesday, when the Big 12 Conference released the Big 12 portion of the 2018-19 schedule. By Matt Tait

His goal, these days, is to emerge victorious at least twice a year in his matchups with his alma mater. But that did not stop Oklahoma State University's Alumni Association from honoring Bill Self as Distinguished Alumni Award recipients for 2018. By Matt Tait

Hernia surgery kept Kansas coach Bill Self mostly away from his team during the Jayhawks' first week on campus, but before he went into the operating room last Thursday, Self saw enough to know where the 2018-19 team stood entering the start of the fall semester. By Matt Tait

Seated seven stories down, near the corner of Ninth and New Hampshire streets, Kansas basketball coach Bill Self craned his neck to watch assistant coach Kurtis Townsend and former KU basketball players Jeremy Case and Jeff Hawkins rappel down the 888 Lofts building for Saturday's "Over The Edge" charity event. By Matt Tait

It was billed as the day Kansas basketball coach Bill Self would go "Over the Edge" and rappel down a seven-story building for charity. Instead, the KU coach will watch staff members Kurtis Townsend and Jeremy Case scale down the 888 Lofts building in his place. By Matt Tait

Games still will air on local TV, too
Live broadcasts of some University of Kansas football and basketball games will be accessible through a new platform beginning this fall. By Matt Tait

College basketball is changing the system it uses to evaluate the strength of its teams for inclusion and seeding in the NCAA Tournament. By Matt Tait

Another poll with Kansas on top — this one of college basketball coaches, conducted by CBS — means more fuel will be added to the notion that this will be a disappointing underachievement of a season if the Jayhawks don't make it to the Final Four.
September 2018
August 2018
Previous Next