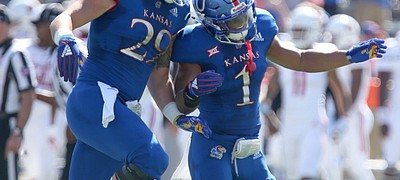 The names broadcasted over the public address system for tackles in Kansas' 55-14 win over Rutgers had a familiar ring with Lawrence residents.

Pooka Williams' skills aren't only dropping jaws around Lawrence. According to Pro Football Focus, the Jayhawks' young offensive star is the third-best true freshman in all of FBS through three weeks. By Benton Smith

Jayhawks haven't won a Big 12 road game since 2008
Especially for the players who have suffered through the program's struggles the longest, burying KU's 46-game road losing streak in Mount Pleasant, Mich., and delivering consecutive victories for the first time since 2011 felt meaningful. Now there is another streak for the Jayhawks to vanquish. And redshirt senior linebacker Joe Dineen didn't need to hear the entirety of a question earlier this week to identify it. By Benton Smith

"Guys are playing more confident and more relaxed and listening to (defensive coordinator Clint Bowen), and obviously applying it," Daniel Wise said. "And you see what happens when you do that." The most eye-popping upshot, through three nonconference games at least, has been the defense's ability to turn opponent mistakes into punishing takeaways. By Benton Smith

So you have to wonder, if KU implemented a flexbone offense, a la Army and Navy, would that improve both the running game and the passing game?

Before taking up football, Azur Kamara's dream was to return to Ivory Coast to become a soccer player for the national team. He said when he walked onto the field for his first high school football practice, he didn't have the first clue how to watch the sport, much less play it.

When Daniel Wise hurt an ankle badly enough to limp off the field this past Saturday during the Kansas football team's home game against Rutgers, the redshirt senior defensive tackle was adamant about checking back in. By Benton Smith

Miles Kendrick remains part of game plan
Although he watched the entire second half of the Kansas football team's home win over Rutgers from the sideline with coaches and reserves, senior quarterback Peyton Bender will keep his spot as the Jayhawks' starting QB on Saturday at Baylor. However, David Beaty also said Bender might man the spot for "one" play or "50" plays. By Benton Smith

If the undisclosed eligibility issue that kept Kansas running back Pooka Williams from playing in the football team's season opener remains unresolved — head coach David Beaty won't address its status — the matter, Beaty insists, is not one currently causing him grief. By Benton Smith

Mike Lee, third-year starter for the Kansas football team, and basketball player Marcus Garrett both are skilled at intercepting passes and that's not all they have in common. They both also happen to be big fans of Mike Lee.

As the Kansas football team prepares to open Big 12 play this Saturday at Baylor, it does so with the conference's leading rusher residing in Lawrence, and spending most of his waking hours inside Anderson Family Football Complex. In just two games — KU kept him out for its season-opening loss to Nicholls State for what was later described as an eligibility issue — freshman sensation Pooka Williams' 288 rushing yards put him atop the Big 12. By Benton Smith

In the opening week of the season the Kansas offensive line looked exactly like what it was, a collection of strangers thrown together at the last minute. Multiple bad snaps and general lack of cohesiveness made it look as if the unit had gone backward, if anything, from last season's rough times. Two weeks later, things looked a whole lot different.
September 16, 2018 11:49 p.m.
Starting role unclear after Miles Kendrick plays more in Week 3
Head coach David Beaty planned all along to use Miles Kendrick in every game this season. Just three weeks in, though, the dual threat sophomore reserve played more than senior starter Peyton Bender in the Jayhawks' 55-14 thumping of Rutgers. By Benton Smith

Beaty won't say who will start at QB next week
The third start of his senior season began in similar fashion to the previous two weeks for Kansas quarterback Peyton Bender, with him watching from the sideline on occasion while backup Miles Kendrick took over for the offense. However, unlike the past two games, Bender didn't play at all after halftime Saturday in KU's 55-14 drubbing of Rutgers. By Benton Smith

KU's takeaway-happy defense left the field with possession of the ball three times in the first quarter alone. Then, during the timeout leading up to the second quarter, former KU star quarterback Todd Reesing capped his Ring of Honor ceremony by leaping and delivering one of his signature fiery fist pumps. The stage, Mike Lee felt, was set for his big moment. And he pounced with an interception that he doggedly returned 31 yards for a touchdown, further inciting the Jayhawks to drub visiting Rutgers, 55-14. By Benton Smith
September 2018
August 2018
Previous Next