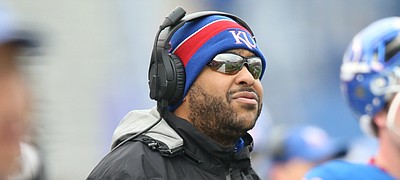 After sticking around for one year as the Kansas football program transitioned from one coaching regime to another, running backs coach Tony Hull is leaving the team. By Benton Smith

A U.S. District Court magistrate judge ruled Tuesday that Kansas Athletics will have to turn over evidence requested by lawyers for former Kansas football coach David Beaty, whose $3 million lawsuit against his former employer remains ongoing, more than a year after KU fired him.

Assistant has ties to Brent Dearmon
Less than a week after Tony Hull announced he was leaving the Jayhawks, Jonathan Wallace, a former skill player at Auburn who also previously worked with KU offensive coordinator Brent Dearmon, was hired to take over the position.

A former defensive coordinator at NAIA Marian University, Brock Caraboa will become KU's defensive senior analyst, while Charles Moore, a former graduate assistant at Auburn, is joining the Jayhawks as a special teams senior analyst.

The way Les Miles envisions their futures, several freshmen on the Kansas football roster should be far ahead of schedule by the time the 2020 season arrives. Six members of the Jayhawks' latest signing class already are enrolled, attending KU classes and getting acclimated when they could still be seniors in high school. By Benton Smith
One of Brent Dearmon's former colleagues is reuniting with the Kansas football offensive coordinator and joining Les Miles' staff at KU.

At a congressional hearing on student-athlete compensation, University of Kansas Chancellor Douglas Girod said that if an opportunity arose for student-athletes to earn value from their names, images or likenesses, KU would support it.
By Lauren Fox
February 11, 2020 10:37 a.m.

For the first time since 2015, the Kansas football program will have multiple representatives at the NFL's scouting combine. Azur Kamara, a 6-foot-4, 235-pound athlete who played outside linebacker and defensive end during his two years at KU, found out this past weekend, during the latest round of invites, that coaches and personnel decision-makers in the NFL want to have a closer look at him. By Benton Smith

For anyone wondering why the Kansas football team's 2020 signing class had so many receivers, allow Les Miles to explain. Actually, while recapping this past week the Jayhawks' list of incoming freshmen, Miles was happy to share his opinion that KU filled specific needs at a few other positions, too. By Benton Smith

With the Kansas football team's 2020 signing class finally complete, head coach Les Miles looked at the long list of high school players he and his assistants spent the past year recruiting and didn't mind sharing his sense of satisfaction. "This has been," Miles said during a Thursday press conference, while knocking his fist on the wooden lectern in front of him, "the kind of class that we needed." By Benton Smith

In the last season under head coach David Beaty, the University of Kansas football team posted the lowest revenue from ticket sales the team had seen in at least 12 years.
By Lauren Fox
February 5, 2020 6:37 p.m.

Bryant signs with KU days after decommitting
For a little while, National Signing Day proved relatively uneventful for Les Miles and the Kansas football coaches Wednesday morning, as the program's committed 2020 recruits, as planned, validated their pledges with their signatures. But by midday the Jayhawks officially added two new members to the class, too, as cornerback Ra'Mello Dotson and defensive end Clinton Anokwuru signed. By Benton Smith

With most of their 2020 recruiting class sorted out in December, Kansas football head coach Les Miles and his assistants just have a few loose ends to tie up on Wednesday for National Signing Day. The Jayhawks could add somewhere around four to six new additions to fill out the class, after announcing the signing of 19 high school seniors during the early signing period. By Benton Smith

Two more Kansas football skill players have entered the NCAA's transfer portal. A day after running back Dom Williams announced his decision to play out the remainder of his college career elsewhere, 247Sports reported KU receivers Quan Hampton and Evan Fairs also have put their names in the portal.

After three seasons in the Kansas football program, running back Dom Williams announced Monday he plans to finish his college career elsewhere. The 5-foot-10 rusher from McKinney, Texas, took to Twitter to let people know he's entering his name into the NCAA's transfer portal.
January 2020
December 2019
November 2019
October 2019
September 2019
Previous Next