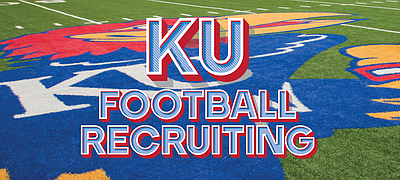 The Kansas football program is now poised to bring in two first-year quarterbacks in time for spring practices. Conrad Hawley, a state title-winning QB from Ray-Pec High, in Missouri, announced Tuesday he plans to not only sign with the Jayhawks but also enroll early.

Even before they packed up everything they will need to bring to Lawrence for their first semester at the University of Kansas, incoming freshmen Ben Easters and Conrad Hawley got a sneak peek at their new lives as KU football quarterbacks.

After three years playing for an FBS program at Kansas, defensive back Corione Harris plans to finish his college career at the FCS level.

As Kansas football head coach Les Miles and his staff continue trying to rebuild the program, they hope their next incoming recruiting class will end up including some helpful walk-ons.

The newest assistant on head coach Les Miles' Kansas football staff, offensive line coach Lee Grimes signed a contract that could potentially keep him with the Jayhawks through the 2026 season.
One of the breakout performers for the Kansas football program in 2019, former Jayhawks receiver Stephon Robinson Jr. will next be catching passes in the Big Ten.

After three years playing for his hometown's college football program, offensive lineman Jalan Robinson, a former standout at Free State High, is eyeing a transfer from the University of Kansas.

It didn't take former Kansas starting cornerback Elijah Jones long to go in one end of the NCAA's transfer portal and come out on the other.

In the case of the Kansas football program, the NCAA's transfer portal typically taketh away more than it giveth. But the Jayhawks came out on the positive side of the portal for a change on Tuesday, when former Notre Dame offensive lineman Colin Grunhard decided to join KU.

Neither of the star "Louisianimals" from Kansas football's 2018 signing class will play for the Jayhawks as a senior next season. Corione Harris, a junior defensive back at KU in 2020, is now looking for a new program, a couple months after running back Pooka Williams left Kansas and eventually entered the NFL draft.

The Kansas football program won't be able to bring back starting cornerback Elijah Jones, who made public on Sunday his plans to enter his name into the NCAA's transfer portal as a graduate transfer.

The top unsigned high school senior receiver in the country, Quaydarius Davis committed to join the Kansas football program on Saturday night. A four-star wideout from Dallas' Skyline High, Davis is rated by Rivals as the No. 5 receiver in the entire Class of 2021 and the 36th-best overall prospect in the country.

Former Kansas cornerback Kyle Mayberry is headed to the Mountain West for his sixth and final season of college football.

Former Kansas receiver Andrew Parchment rang in the new year by finding his new college football home.

A new year is upon us and one of the craziest sports years in recent memory is now finished. Here's a quick look back at the biggest events and happenings in the world of KU sports in 2020.
By J-W Staff Report
December 31, 2020 8:42 p.m.
December 2020
November 2020
October 2020
Previous Next