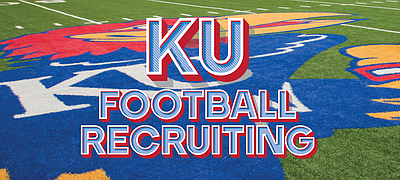 Thanksgiving in the Kansas football offices became a little happier when the coaching staff received a verbal commitment from a junior college prospect the coaches hope can help out the Jayhawks' secondary. Elmore Hempstead, rated a three-star juco corner by Rivals, reached out to the KU staff Thursday morning to share his decision. By Benton Smith

A lengthy list of flaws, showing up on offense, defense and special teams to varying degrees this fall, has kept the Kansas football team in a losing rut since defeating overmatched FCS opponent Southeast Missouri State in the season opener. A one-win season awaits the Jayhawks unless they score an upset on the road at Oklahoma State, considered at least a 40-point favorite over wobbling KU. By Benton Smith

David Beaty wasn't part of the captains' plan to stiff Baker Mayfield at the coin-toss handshake, but the coach did let the captains have a role in deciding the nature of the "punishment."

The Kansas football team's second-leading tackler, sophomore safety Mike Lee, might not get another chance to add to his current season total of 65 stops. Head coach David Beaty didn't know at his weekly press conference whether Lee would be able to return to the field for Saturday's season finale at No. 18 Oklahoma State. By Benton Smith
Third-year Kansas football coach David Beaty defined the identity of this year's team as "resiliency." And there's one player on the roster who personifies that characteristic better than any.By Tom Keegan

Dorance Armstrong's junior season with the Kansas football program hasn't played out the way the massive defensive end envisioned. As his coaches adjusted schemes to make up for the unit's shortcomings, they revised Armstrong's responsibilities. Consequently, the sacks and tackles for loss that defined his breakout sophomore year often have been replaced by near misses and frustration. The 6-foot-4, 246-pound Houston native, though, hopes all of this will ultimately benefit him as a player. By Benton Smith

When the Kansas football team's captains decided to snub Oklahoma quarterback Baker Mayfield during pre-game unpleasantries this past weekend, they had no idea of what fallout would come. A day after their head coach, David Beaty, declared public apologies to numerous parties on their behalf, he announced at his Tuesday press conference Daniel Wise, Dorance Armstrong Jr., Joe Dineen and Jeremiah Booker will be deprived of their captain status for the upcoming season finale at No. 18 Oklahoma State. By Benton Smith

Rare is the basketball player who leaves for the arena with his mind trained on how miserable he's going to make life for the man he will guard that night.

Captured on ESPN grabbing his crotch and yelling profanities toward the Kansas sideline following a third-quarter touchdown in his team's trouncing of the Jayhawks Saturday at Memorial Stadium, Oklahoma quarterback Baker Mayfield won't start or serve as a captain for the Sooners on his Senior Day. First-year OU head coach Lincoln Riley announced those punishments for his fiery Heisman Trophy-hopeful quarterback at his Monday press conference, in Norman, Okla., while also referencing the pregame handshake snub by the Jayhawks' captains that set Mayfield down that path. By Benton Smith

A couple days removed from seeing three of his Kansas football team's defensive captains refuse to shake hands with Oklahoma quarterback Baker Mayfield prior to kickoff, head coach David Beaty took a contrite stance on the matter Monday morning, on the Big 12 coaches media teleconference. "First of all, that was absolutely unacceptable," Beaty began, when asked to further explain the occurrence, adding he reached out to OU head coach Lincoln Riley to apologize "on the behalf of myself and our team." By Benton Smith

There were more family and friends in the stands than usual, but Amani Bledsoe tried to treat Saturday's football game against Kansas like all of the others. By Bobby NIghtengale
November 19, 2017 6:40 p.m.

The No. 3-ranked Oklahoma Sooners are known for their highly effective offense and a tough-to-defend quarterback in Baker Mayfield, who just might win the Heisman Trophy, in spite of his combustible personality. OU's football team, at least this season, is not known for its defense. Nonetheless, Kansas failed to score a touchdown in its 2017 Memorial Stadium finale, a 41-3 defeat. By Benton Smith

At what point will the power brokers at the University of Kansas pretend to care about the football team enough to be embarrassed into action? By Tom Keegan

The Kansas football team's receiving corps' run of injury bad luck continued Saturday during a 41-3 loss to Oklahoma at Memorial Stadium. By Benton Smith

If the Kansas football team's defensive captains hoped to rattle Oklahoma quarterback and Heisman Trophy candidate Baker Mayfield by refusing to shake his hand during the pre-game coin toss, the ploy's effects weren't nearly enough to upset the No. 3 Sooners. By Benton Smith
November 2017
October 2017
Previous Next