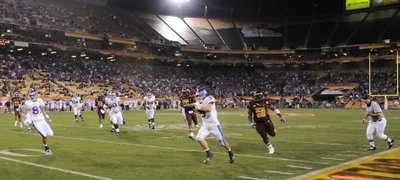 In the aftermath of the Kansas University football team's historic 42-21 Insight Bowl victory over Minnesota — which long will be remembered as the day Jayhawks quarterback Todd Reesing and receiver Dezmon Briscoe essentially were unstoppable — the two players made their way to a news conference at Sun Devil Stadium, where dozens of reporters wanted to know how, exactly, they had managed to do what they had just done.
Kansas University's football players and coaches can't help but be excited about next season.
Two bowl victories and a national basketball championship make the Jayhawks the number one sports story of the year.

It wasn't the Orange Bowl, but in dominating Minnesota 42-21 Wednesday night in the Insight Bowl played at Sun Devil Stadium, Kansas University's football team looked worthy of a BCS bowl game.
Just moments earlier, Kansas University had won its third bowl game in four years, 42-21, Wednesday night against Minnesota in the Insight Bowl at Sun Devil Stadium. Defensive coordinator Clint Bowen was sporting that signature grin, the one that lights up his whole face, the one that had been replaced by a clenched jaw in the early stages of the Big 12 season.

Former quarterback tosses and catches touchdowns in KU victory
Kerry Meier wasn't going to back down. The Kansas University receiver said he refused to remain silent after a wide-receiver pass was added to the playbook a month ago.
News and notes from KU's Insight Bowl victory.
So, fans wondered, just how much would the Gophers offense really change? Lots.
Heroes and goats from Tempe.
Many believe KU is capping off what may be the greatest year in KU sports history.
The Kansas football team, fresh off of Wednesday night's 2008 Insight Bowl victory, will return home Thursday evening. The team plans to land at Forbes Field in Topeka around 4:20 p.m.

Reesing throws for 313 yards; Meier adds passing, receiving touchdowns
Minnesota, KU football teams facing off
The Insight Bowl pits the Kansas University Jayhawks against the Golden Gophers of the University of Minnesota, but local ties to the Twin Cities run deeper than a football game.Some Minnesota alumni are even teaching Jayhawks.
December 31, 2008 midnight

Minnesota rebounded from a 1-11 record to 7-5 (so far) this season, a turnaround similar to KU's improvement from 2-10 in 2002 to at least six wins in all but one of the years since.
September 2010
January 2009
December 2008
Previous Next