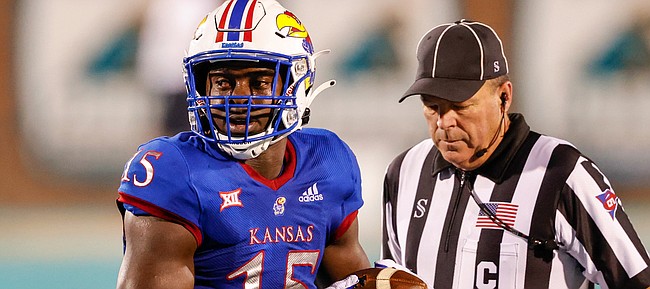 Super-senior Kyron Johnson played linebacker earlier in his Kansas football career, but the defensive end caught Oklahoma off guard when he briefly returned to the position for one of the Jayhawks' highlight plays this past week.
Typically, in KU defensive coordinator Brian Borland's scheme, Johnson lines up wide so he can rush the quarterback. But on OU's opening drive, when the Jayhawks had the Sooners facing third-and-5, Borland went to a front that placed Johnson in the middle of the defense, just a step or two behind KU's linemen.
Instead of trying to race to the QB from the edge, Johnson blitzed up the middle for a sack of Caleb Williams and a 10-yard loss.
"Every week you try to have something a little bit different that they might not have seen," Borland said of the play, which kept KU's momentum flying high early in what would become a comeback victory for OU.
Johnson, a speedy, 6-foot-1, 235-pound D-end, leads the Jayhawks with 3.5 sacks this season. But he's the only KU player with more than one sack through seven games.
KU (1-6 overall, 0-4 Big 12) only averages 0.86 sacks a game as a team, which ranks 129th out of 130 FBS teams (South Florida averages 0.57).
"We've just had a little bit of trouble once in a while generating a lot of pass rush on our own," Borland said. "So we we just felt we could get into an alignment where we thought they would block a certain way, which they did, and we kind of surprised them with (Johnson blitzing from up the middle). They hadn't seen it, prepared for it. So it worked. It worked just like we drew it on the board. I think that was a big shot in the arm for the defense, as well."
Borland said the defensive coaches try to have a few unexpected wrinkles "here or there" each week for opposing offenses.
KU's D.C. also noted the Jayhawks' next opponent, No. 15 Oklahoma State (6-1, 3-1), obviously would be ready for a Johnson blitz if KU tried that same look again on Saturday (6 p.m., FOX Sports 1).
"So things have got to keep developing a little bit," Borland said. "You don't always want to just line up just where they think you're going to."
Johnson currently ranks fourth on the KU defense, with 36 total tackles, to go with his team-leading 5.5 tackles for loss, 3.5 sacks and four QB hurries. The veteran D-end from Arlington, Texas, also has forced two fumbles and recovered a fumble.