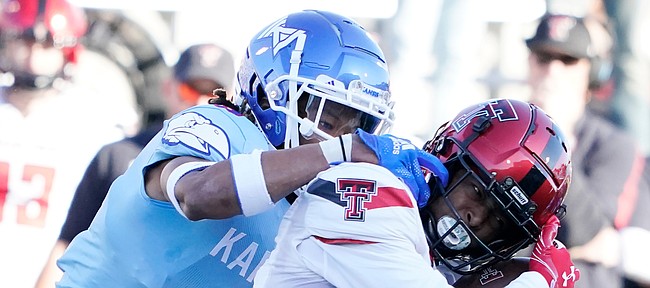 In a Kansas football cornerback rotation that features a freshman, a redshirt freshman and a sophomore, graduate transfer Jeremy Webb is the old man in the room.
Webb played at ASA College at the junior college level, Virginia Tech in the ACC, and Missouri State in the FCS ranks before finding his way to KU this past summer, via the transfer portal.
In the same month of August that Webb arrived in Lawrence, the veteran cornerback turned 25.

"Yeah, it's a little bit of an age difference," Webb said this week, during his first media session since joining the roster. "I just wanted to come in and make sure I could be a leader for those guys."
Having played for a number of coaches at various levels, Webb felt comfortable as soon as he got to KU. He also wanted to let younger corners such as freshman Jacobee Bryant, redshirt freshman Ra'Mello Dotson and sophomore Duece Mayberry know the best ways to go about their business. Whether it was understanding certain situations and coverages or hammering home the importance of being on times for meetings, Webb said he wanted to be the type of veteran who could help younger players through emphasizing structure — even if he was new to the program himself.
Webb said all of KU's corners, himself included, have experienced moments this season when they need to adjust and learn.
"So as far as tough coaching or whatever the case is, you can't really get caught up on how the coach is saying it. It's more so what he's trying to say to you," Webb said of one example of how he has tried to share some wisdom with the young members of the secondary. "So you just need to get that message and pretty much take the coaching and try to adjust to it, the way (the coach) wants you to."
A 6-foot-4, 205-pound cornerback who is originally from East Mims, Fla., Webb started nine games at Missouri State this past season, with most of those contests coming in the spring of 2021, due to the pandemic.

Though he didn't join the Jayhawks until the program was opening its preseason camp in August, cornerbacks coach Chevis Jackson said Webb piked up right where he left off, and gave the position group some needed veteran leadership.
In Jackson's first conversation with the new Jayhawk back in the preseason, the assistant told Webb: "You've gotta come in and you've gotta work."
"Every day he's doing that," Jackson added. "He's proving it on the field, as well as the whole group."
Webb said before he committed to KU, while he was weighing his options for the 2021 season as a graduate transfer, KU football's general manager, Rob Ianello, reached out to him frequently during the recruiting process.
Ultimately what sold Webb on KU as his final college football stop was the chance to come in and help during Lance Leipold's first season as the team's head coach.
"It was a fresh start for everyone," Webb said. "I just believed in (Leipold's) message and believe in being a part of something special with turning KU around."
KU defensive coordinator Brian Borland said Webb caught on relatively quickly upon joining the program and has proven to be a student of the game.
"And obviously he's he's added an element of length to the position and he's certainly had his moments this year where he's he's really performed pretty good at times," Borland said.
This past weekend against Oklahoma, Webb accounted for six total tackles, a personal best for him while competing at the FBS level. Though he hasn't started for the KU defense, he's a regular contributor, with 20 total tackles and three pass breakups in seven appearances as a reserve.
"I think he's a pretty steady presence back there for sure," Borland said. "And a guy that, he's really not hot and cold, up and down. He's pretty steady and you know what you're going to get from him every day."
Webb said his favorite individual moment so far came in KU's opener versus South Dakota. On third-and-3 in the final minute of the fourth quarter, with KU trying to preserve a 17-14 lead, Webb broke up a pass. The moment felt "huge," Webb said, especially since safety Kenny Logan Jr. broke up the next pass, too, sealing the win.
Borland said he's glad to have Webb in the secondary.
"He's kind of one of the pieces to the puzzle out there at the corner spot," Borland said, adding the coaches are trying to best utilize a rotation so no one wears down. "So far so good for him."
With five games left on the schedule for KU (1-6 overall, 0-4 Big 12), Webb said he hopes the cornerbacks can play at a higher level and "show what we're about" in the weeks ahead.
"I feel like we really haven't had a game where we have really all put it together and shown how we are as a unit," Webb said. "Pretty much just going out, balling out, having fun — just kind of what we do in practice just about every day. So that's something I really want to be able to do. Just have fun with it. Go out there with my brothers and turn up, have a good time."
KU plays Saturday at No. 15 Oklahoma State (6 p.m., FOX Sports 1).