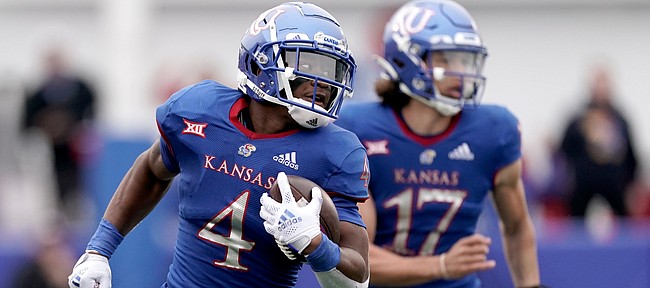 As Kansas running back Devin Neal's freshman season keeps surging, his latest performance secured the Jayhawks' go-to rusher his first weekly honor from the Big 12.
Following Neal's 100-yard, two-touchdown outing against unbeaten Oklahoma, the conference announced Monday Neal was the co-newcomer of the week, sharing the distinction with West Virginia's Charles Woods.
Neal, the former Lawrence High star who scored KU's first two TDs, via goal-line charges into the end zone versus the Sooners, said he felt "super-energetic" as the Jayhawks tried to upset OU.
"I felt like I had a lot of confidence and a lot of swagger out there that I was playing with," said Neal, who finished with 23 carries, picked up three first downs on the ground and took one first-half run 44 yards.
"I was just enjoying every moment of that game," Neal said afterward.
It was the 5-foot-11, 210-pound true freshman's second 100-yard rushing game since becoming the starting running back for the Jayhawks (1-6 overall, 0-4 Big 12).
Since replacing junior Velton Gardner, who left the program after three games and entered the transfer portal, Neal is averaging 4.91 yards per carry and 86 yards per game on the ground.
Following his standout game against OU, Neal said he was proud of KU's offensive line, as well as the receivers for how they blocked on the perimeter, and he thought the Jayhawks (166 rushing yards as a team, 4.0 yards per carry) ran the ball efficiently.
The newcomer award for Neal was KU's first weekly award of the season. Neal became the first Jayhawk to be named newcomer of the week since Andrew Parchment earned the distinction in September of 2019, when Parchment had five catches, 132 receiving yards and two touchdowns versus West Virginia.
Woods, who shared this week's newcomer award with Neal, is a junior cornerback who transferred to WVU after playing previously at Illinois State. Woods recorded his first interception as a Mountaineer this past weekend and recovered a fumble during WVU's road win at TCU. Woods' pick set the Mountaineers up for a TD and a late 12-point lead on the road.