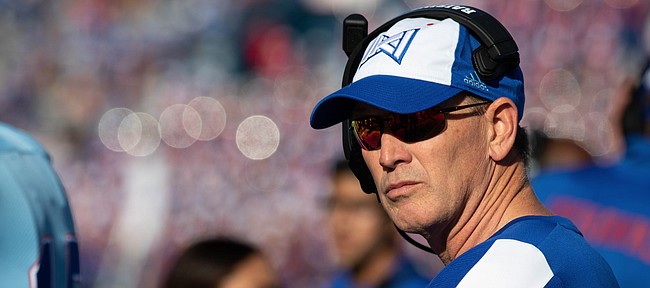 His Kansas football team has lost five times in a row since rallying for a late-game victory over South Dakota in his debut. But Lance Leipold said midway through his first season as the Jayhawks' head coach that he's disappointed for the players — not disappointed in them.
Although KU has lost each of its past five outings by 19 or more points and been blown out by 27 or more in all three of its Big 12 matchups, Leipold said he still sees "want to" from his players.
A question during his weekly press conference on Tuesday regarding the blocking from KU's tight ends led Leipold, who took over the long struggling program following the conclusion of spring football more than sixth months ago, to emphasize that he remains satisfied with the commitment from his players throughout the roster.
The former Wisconsin-Whitewater and Buffalo head coach, who arrived in Lawrence with a 146-39 career record, said the issues the tight ends were dealing with encapsulated the state of KU's program.
"Our inconsistencies sometimes, many times, hurts our confidence. And when you're not confident, you don't play fast," Leipold explained. "There's times where we've just got to let it loose a little bit more and let it rip and play aggressively. Sometimes we get beat on things because we're hesitating, we're stopping, we're doing things. And that can be at different (positions). And we're working to alleviate that."
KU's problems haven't been limited to one side of the ball, particularly in Big 12 play, during which the Jayhawks (1-5 overall, 0-3 Big 12) are allowing a league-worst 48.3 points per game and scoring only 9.3 points per game, which also ranks last.
The Jayhawks' offense is producing 247 yards an outing (10th in the Big 12) in conference games, while the defense is surrendering 526 yards a game (also 10th).
Despite toiling in so many facets of the game, their head coach said the Jayhawks haven't let that affect their mindset in a negative way.
"I've said this more in smaller settings, but I'll say this for the record: this group has been coachable," Leipold said during his press conference.
His debut season with KU has been far from perfect — Leipold referenced the departure of former starting running back Velton Gardner three games into the season as one example — and the head coach said "everybody's frustrated" by the results. Even so, he thinks the staff just needs to keep finding ways build on the small successes the Jayhawks have experienced and instill them with some more confidence in the process.
"And then I feel we'll start seeing those things change," Leipold said.
Amid an extended rough patch for the KU offense, coordinator Andy Kotelnicki said he tries to keep morale high and the Jayhawks on the right path toward progress by spending time pointing out those instances where players or a position group have executed something well.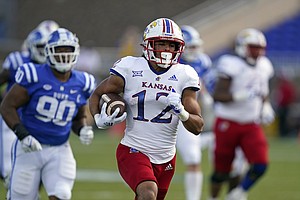 Kotelnicki said it's important for the players to see those game day examples.
"As a teacher, you try to spend a lot of time connecting the dots between maybe the things that you're drilling and the things that show up on game film," Kotelnicki said. "Maybe it's a block or maybe it's a route or a coverage or whatever it might be. And you point it out and you say, 'Look at this. This is why we're doing this. This is why we're training you.'"
Just this week, Kotelnicki, who coaches KU's tight ends, was talking to his group about the importance of having "laser focus" during practice reps. He used redshirt freshman Trevor Kardell, who also is an outfielder for the KU baseball team, as an example.
"You would never allow yourself to step into the batter's box without laser focus," the O.C. related. "If you do, you're going to go down swinging or the bat's never going to leave your shoulder or you're going to get hit with a pitch."
He said the players need that "laser focus" with practice reps so when they're in the same situation on a Saturday they can execute.
Similarly, KU defensive coordinator Brian Borland said the coaches on that side of the ball have to keep "setting a high standard" with what they ask of the players, while also making sure they aren't becoming discouraged by the results during a prolonged losing streak.
Just like with KU's offense, Borland said defensive meetings include overviews and examples of where the Jayhawks are doing well.
"Even if it's bits and pieces, we can pull several plays from any game we've played and say, 'Man, it doesn't matter who you're playing. This is it right here. This is the way it's supposed to look and the way it's supposed to be for a lot of reasons — execution, effort, physicality, all those things,'" Borland explained.
The D.C., of course, said that the "other plays" where the defense underperforms aren't ignored, either. That's part of making sure the Jayhawks expect more out of themselves as the program endures the early stages of its latest rebuilding project.
"I think we all realize that — as we've said 100 times — it's still a work in progress," Borland said. "And we do still have development ahead of us in every area."
The tricky balancing act for all involved, as Borland described it, involves having high expectations while understanding the reality of the situation and not letting it boil over into anger.
"I can be frustrated with some of the results, but I'm not going to be frustrated with our players," Borland said, echoing Leipold. "And I'm not, because they're really trying to do what we're asking. So we've just got to trust that over time the negative is going to be reduced and the positives of things are going to increase."
KU's next challenge comes Saturday at David Booth Kansas Memorial Stadium (11 a.m., ESPN), against undefeated, No. 3-ranked Oklahoma (7-0, 4-0).